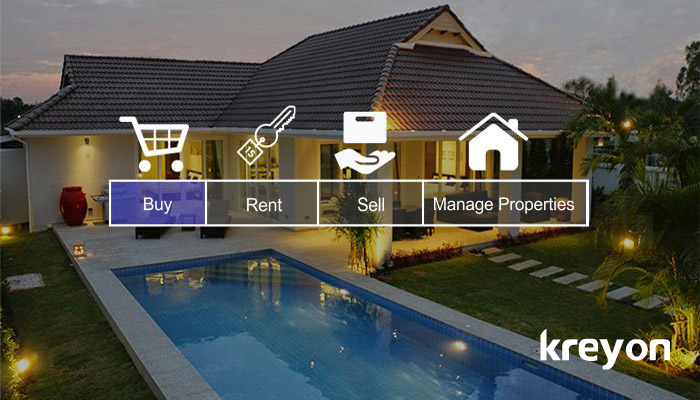 Real estate business is dynamic in nature. It requires handling various processes like handling multiple projects, tracking different locations, keeping up to date inventories, selling property, finding tenants, getting investors on board for new developments among many others. The real estate business is complex involving various processes, which are often interlinked to each other. Automation and use of technology improves communication and reduces friction for managing business for real estate companies. A look at how the leading real estate companies are using business process automation to take their organisation to the next level:
1. Property Management:
The way people search properties has changed with the ever increasing use of technology. Finding properties often starts with a search query to find suitable listings on internet. Real estate businesses are now managing their property listings online. They use integrated web applications for listing out office space, warehouses, agricultural, commercial, residential properties for sales & renting. For every property listing, the users can also view google map for locations, images, age of property, floor plans, amenties and associated documents etc. The prospective customers are able to search properties & make online enquiries.
2. Business Processes & automated workflows:
The real estate services can be managed using an integrated web interface. Tracking the property constructions, progress of ongoing projects, property details, renewals of agreements, tasks, emails, documents and all other associated activities is centralised. Automated workflows can help real estate companies to manage the staff workloads efficiently. Regular reminders and notifications can be sent to the staff as well as the management for various activities. These activities can be configured as per the requirements of the business. The system can aggregate data and send automated reports to the managers & executive.
3. Leads & Marketing for properties:
One of the key tasks for real estate companies is to manage their marketing & sales activities efficiently. Generating high quality leads from various campaigns is critical for improving sales. Campaigns can be managed from an integrated web application. The property listings can be uploaded on a dynamic website with images, google map integration for locations and other documents. This results in enquires and qualified leads from the web. The other campaigns, for e.g. radio/tv ads, social media marketing, exhibitions and expos etc can also be managed from the integrated software. The ROI from various property campaigns, their results and business impact can be aggregated and analysed.
4. Projects, Inventories & Assets:
Managing projects and inventories at different locations can be very taxing for administrators. With integrated online software, multiple locations can be managed effectively. The inventory position at any given point of time can be accessed from any place. The project milestones, important events, expenses, budgets, inventory, and manpower can be accessed remotely. The consumption status of various projects can be compared to check for any inconsistencies or variations. The cost & quality control can be done proactively. Companies can also look into the execution details of a project and analyse the bottom line impact of the same. With an automated system, the inventory wastage & asset utilisation also result in increased profitability for projects.
5. Contracts & legal documentation:
When managing multiple sites and locations, it is important to have access to important documents remotely. The contracts and legal documents for properties are prepared with extreme care. The compliance requirements are critical for every project. Licenses, agreements, sale deed, subcontractor agreements, loan related documentation can all be aggregated with an integrated software. Searching and finding information for any property like age of the property, location details, floor plan, title deed etc can be simplified a great deal with digital document management.
The real estate software development involves a system where all contracts for leases, title deeds and compliance are stored with automated reminders for renewals etc.
6. Manage tenants, agents & marketing agencies:
To manage lease renewals for tenants for various facilities across multiple locations can be tedious. The profile of the tenants, rental agreements, renewals of agreements and payment collections can be managed using integrated software. Automated reminders to tenants, designated staff members are sent for these business transactions.
Real estate companies also rely on agents & marketing agencies for selling/renting their properties. It is important to manage these agents and marketing agencies effectively for expansion of the company. The automation can also be used for managing various agents & agencies across different locations. All these agents are connected with the centralised system and can access required information remotely with their mobile devices. The on-boarding of agents and the marketing agencies, their commissions and performance analysis can be done with the centralised software.
7. Vendors, Subcontractors and Bill of Materials:
It is critical to have a system that can help to streamline all communication with vendors, subcontractors and bill of materials information. All vendor profiles, inventory details and rate history can be tracked with the centralised system. This system can also be used to invite the quotations from vendors and subcontractors or for placing purchase orders for different projects. The subcontractor agreements and progress for various projects can be done with the system. For any project, the consumption status and bill of material is accessible, resulting in increased transparency & right use of the inventory. The workflow automation can be configured to pick up any drastic variances in material costs or quantity and immediately notify it to the management or supervisors.
8. Valuation & Advisory Services:
It is crucial to know the worth of your assets. Estimating the right costs and value of your assets can have big financial implications. The current value of the assets determines the costs for selling, renting or leasing the properties. The companies employ valuation and advisory services for determining the worth of their properties. The valuation of the property typically involves valuers for this process. The whole process of property inspection, valuation and finally preparation of the valuation report can be automated. The valuation process enables companies to estimate the value of their real estate assets. The valuation process helps them to prepare a roadmap and financial analysis for properties. The companies can take decisions whether to rent, lease or sell assets and costs for the same depending on these valuations.
9. Analytics for core business services:
The integrated system enables key data points that are essential for thorough analysis. A real estate business has many dynamics and correlating different data points is crucial for taking key decisions. An example of some core business services where analytics is helping these companies:
a) Hold/Sell analysis: The hold/sell analysis enables a company to decide whether to sell the property or hold it. The financial implications of the sales coupled with its impact on tax. These numbers can make or break the company.
b) Bill of materials & costs: The rates at which materials are purchased, their variances across projects and comparison with previous years can be analysed. These data points help in determining the best times to buy material at low costs.
c) Project profitability & ROI: Managing multi site projects is hard. However, when these projects are consolidated with a centralised system, it is easier to analyse them. The project milestones, tasks, material and man power consumption can be compared with previous years and other projects. The project profitability and ROI for investors can also be calculated using these figures.
d) Rentals: The variance of rentals across various properties, total rental amount collected, trend for rentals in various locations can be compared. The rental analysis for different types of properties over a given time period are used for financial projects & planning too.
e) Property Sales: The property sales data enables the estate companies to study timing, trends for various locations. The companies can identify the home value trends, price their properties according to market trends & even hold up sales for getting the best deals. The property data information and algorithms help in providing recommendations and insights to businesses.
10. Accounting & Financial analysis:
A centralised and online accounting system is an absolute must for a real estate company these days. The budgeting & forecasting can be done for various projects. The procurement can be driven from a centralised system resulting in optimised procurement to maximise the cash flow for the business. All material billing, machinery, vehicle deployments and man power costs for projects are tracked. All accounts payable and receivable are maintained at one place. Taxation, compliance and regulatory standards are also enforced as part of this system. For controlling costs, workflow settings can be enabled to notify the designated authority for purchases & approvals for any transactions.
Business process automation is driving the real estate companies to new heights today. The capabilities of technology are redefining the way people transact and manage things. Real estate industry is also benefiting from these developments. The core business activities for selling properties, finding qualified leads for properties, managing projects, portfolio and asset management can be simplified a great deal with automation. Improved service delivery, communications, time to market and new avenues for growth is driving the real estate businesses to  adopt technology.