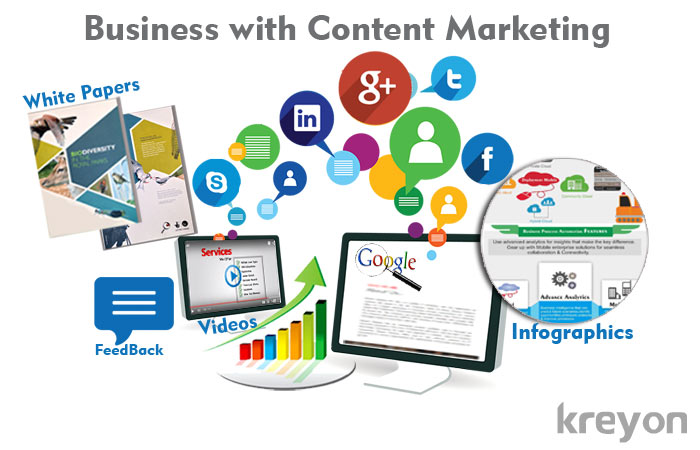 Everyone is jumping on the band wagon for content creation these days. There is huge amount of content generated on the web every minute. The web content is growing exponentially. As per the study done by Domo in 2014, it shows that every minute, FB users share nearly 2.5 million pieces of content, 300,000 tweets are posted on twitter, 220,000 new photos are posted in Instagram, Youtube users upload 72 hours of video content, over 200 million emails are sent, Google receives 2.5 million search queries. Yes, it takes only a minute for all this. The world has never before seen so much content in such a short span of time.
 "Every two days now we create as much information as we did from the dawn of civilization up until 2003."  Eric Schmidt, CEO, Google Inc.
Brands are competing for glory in the race for content creation. It is leading to more and more content. There is a fine line between what is acceptable to users and content that is meaningless created for search engines.  Digital marketing is a way for businesses to take the lead is not a secret anymore. Hence more and more companies are having dedicated teams for generating content. Google & Other search engines help brands to be recognized by ranking them high for valuable content.
How Content Helps Companies
Good content requires a thorough understanding of the customers. Content which is developed around your prospective customers is likely to engage them & produce the results. The digital world is driven by the quality of the content. Companies who are creating value for their customers are winning. Quality wins the race of content on web. Quality content is a sure fire way of building recognition for your company. Informative blog posts. Write content for your users that is valuable, engaging and worth sharing. When brands create high quality content, it is shared by users creating a ripple effect. A look at how quality content can help companies to grow their business:
1. Brand Awareness: Quality content attracts visitors. The visitors are hunting for information that is valuable for them. If a brand is posting articles, videos, Infographics that are valuable, it develops trust and awareness with the visitors.
2. Engage Your Visitors: When you write quality content for your visitors, it is bound to attract visitors. The visitors are often interested in knowing more about topics that engage them. The content acts as establishes the core competency of a company & builds a loyal follower base.
3. Social Media Sharing: When the content created by companies is appealing, the visitors often share it on FB, LinkedIn, Twitter, Instagram, Youtube & other social media channels. The content becomes an authoritative way in which the brand can be recognised. These posts when shared on social media result in more traction and eye balls, which is an ideal scenario for any business.
4. Search Engines: Almost all buying decisions in the digital age start with a Google Search. Good quality content is ranked high on search engines. It becomes a way for people who are looking for particular topics to see your content & discover your brand. Companies who are pooling information are able to attract qualified traffic and rank high on search engines like Google, Bing, and Yahoo etc.
5. Leads: When you post informative content, it helps you to interact with your visitors. The visitors often ask questions and engage in dialogue with your company. The web becomes a tool for generating qualified leads for your business.
6. Feedback: Interaction with your visitors is invaluable. When you post content, it allows you to take feedback from users. The feedback may be important in shaping your products/services. Listening to your audience, taking their inputs and incorporating the feedback may be the difference between success and failure for an organisation.
7. Distinguish yourself: Your brand perception can be conveyed by the theme, relevance and the quality of the content it creates. The web is a great way to distinguish yourself from the crowd. The companies can educate their visitors about its niche & the value in it for its customers.
8. Reputation & Credibility: A good content strategy will ensure that your business is easily searched on internet. It helps you develop trust and credibility. A good online visibility is a must to boost your reputation and gain a competitive edge in this digital age today. Digital leadership creates reputation and credibility for a business to grow globally.
9. Tap Internet Users: There are more than 3 billion internet users worldwide as of 31st Dec 2014. The number is growing every minute. Businesses that are looking to tap into the global internet users for are able to generate unparalleled opportunities. Content marketing helps you to tap into the global pool of users for your business.
10. Increase Sales: The business objective of generating high quality content is ultimately driving more sales. Web is a great place to generate qualified traffic, interested prospects and leads. Content is an enabler for making your sales teams more effective. When your website is filled with interesting and informative content, it will help you to drive business more effectively. The case studies, white papers, articles, blogs, videos, Infographics etc are developed to impress your customers and result in more sales for your business.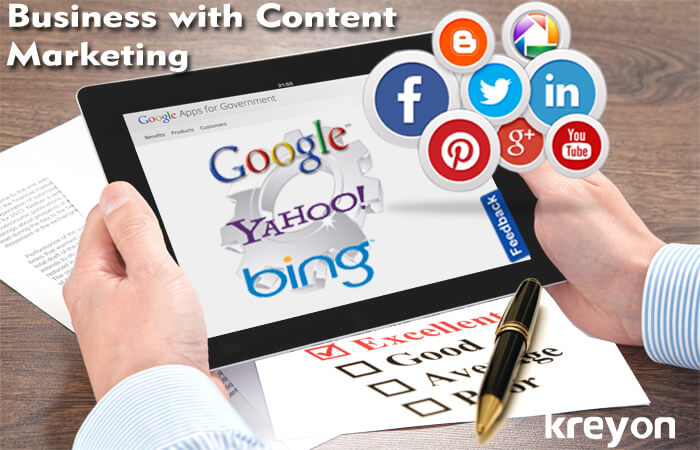 Content marketing is emerging as one of the most important avenues of building brand awareness, educating users, interacting with prospects, taking their feedback, building qualified leads and eventually generating business. The global pool of internet users power the web and content marketing is an effective way to tap into them.