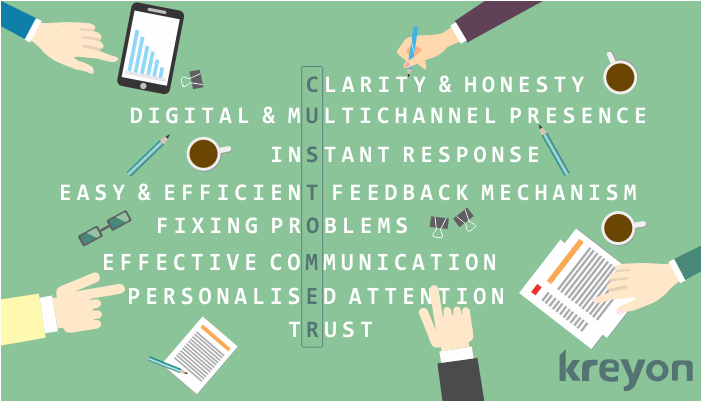 A company can have many reasons for failure, but only customers can make it successful. Success in business largely depends on how your customers perceive your brand. The customer experience shapes the brand perception. It is one of the finest ways a brand can distinguish itself from its competition & serve its customers.
Contrary to popular belief, not all customers are good for your business. Infact, some customers can really hurt the growth of an emerging company. They are very demanding but add very little value to your business. It is better to stay away from such customers. You lose out more than you gain by having these customers in your portfolio. Companies, especially start-ups need to have a good qualification criterion to select their ideal customers. An ideal customer helps you to unlock true value for your business. They want the absolute best, they demand excellence in everything & in the process they help your business to keep up with the world class products/services. A look at factors that shape the customer experience:
1. Instant Response : With the growth of technology, customers today expect instant response from companies. When they report a problem, they expect instant communication & prompt feedback. For e.g. when a flight is delayed, they expect an email & message on their mobile phones. Instant response creates a sense of acknowledgement that customer's problem is important & being looked into.
2. Digital & multi Channel presence : According to Bain & Company, when companies engage and respond to customer service requests over social media, those customers end up spending 20% to 40% more money with the company. Customers expect response from companies on social media; they also want consistent experience across channels and devices. Delivering a meaningful customer experience across channels is critical for businesses today.
3. Effective Communication : A good communication strategy to deal with customers across social media, call center, and other offline interactions is crucial for customer experience. Effective communication with customers can help in suppressing negative feedback & reviews, which can be detrimental for a company.
4. Easy & efficient feedback mechanism : Customers can help you shape great solutions with their inputs & feedbacks. When companies make it easy for customers to share feedback, it invariably results in valuable inputs. Complaints & feedback are invaluable for figuring out areas for improvement, changing market dynamics & understanding expectations of the customers. Every customer complaint is a great opportunity to showcase excellent service.
5. Clarity & honesty : You cannot solve every problem for the customer. Be clear on what can be done & what cannot be done for the customers. A misleading promise, unfulfilled commitment can cause more harm than a well articulated denial to a customer.  When a company establishes a trust & rapport with its customers, it helps in building stronger relationship with clients.
6. Fixing Problems : When a customer approaches a company, they are typically looking for resolutions. The quicker you can fix the problem; the better is the customer experience. Customers today expect their problems to be resolved on their first interaction & support teams should gear up to the challenges.
7. Personalised Attention : With the growing amount of data, businesses are now able to make use of this to make personalised interactions with their customers. Whether it is online giants like Warby Parker, Zappos or retail stores near you, personalised attention improves customer experience. As per a study from McKenzie, 70% of buying experiences are based on how the customer feels they are being treated. With personalised attention, customers are more likely to recommend a brand to others.
In a world of marketers, customer voice is the heard the loudest. Delighted customers are the biggest assets for a business. According to Gartner, 89% of businesses are expected to compete mainly on the basis of customer experience. Technology makes it easier to keep track of key metrics for customer experience & take proactively measures for improving it. Great customer experience is more important than ever before for a business to build relationships with clients. It also leads to increase in revenue, sales & referrals.
Kreyon Systems provides software product development services for building delightful customer interactions & experience. If you need any assistance or have queries, please reach out to us.