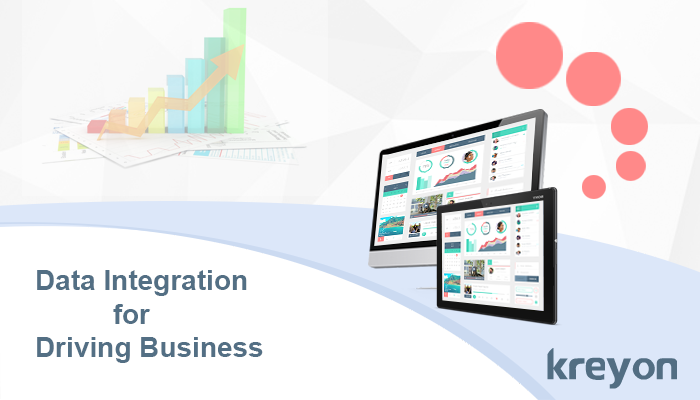 One thing that businesses cannot afford today is delay. When it comes to crucial decisions and actions, organisations rely on data. They must get the relevant information real-time. This involves aggregation of data from various sources, authenticating and validating it, before it can be presented to the relevant stakeholders for taking action. Delivering the right information, to the right person & at the right time is crucial for business. However, businesses are employing multiple IT systems and find it hard to aggregate data. An integrated interface with realtime connectivity and visualisation of data is a pressing need for organisations. Here we look at the things that Drive Data Integration for organisations:
1. Consistent Access to Realtime Information :
Data integration enables accessing the information from various data sources. Whether it is the CRM, ERP or accounts data, all relevant and important data can be aggregated according to functional requirements. When the data sources are integrated, the information is always up to date. The consistency, accuracy & timeliness of information can create a world of difference for the decision makers.
2. Better Administration :
A single integrated interface makes it easier to administer and manage the business. The integration allows the organisations to create a single source of truth. The data can be used to manage information pertaining to business. The employee directory, customer information, sales performance, realtime track of important customer escalations and enquiries are a few to name.
3. Configurable Interfaces for business Metrics :
The business environment is highly complex and changing fast. Organisations today need softwares that can meet the changing dynamics and adapt the interfaces accordingly. With self-service dashboards and configurable interfaces, key result areas can be benchmarked according to individuals using them. These parameters can also be changed as per needs of the business.
4. Visualisation to understand hidden patterns :
Data must be represented in meaningful context and insightful manner. It should simplify analysis and time taken to absorb the information. Data visualisation helps an organisation to uncover data patterns for making business decisions. For e.g. the utilisation of assets may be represented in terms of its allotment to users, company use or idle status. This status could be presented to the procurement manager before any purchase is made to minimise wastage.
5.  Internet of Everything :
The internet of things is growing fast. Devices, assets, resources or even the processes are connected and exchanging information these days. The organisations are able to tap into the data from everything that is important to them. For e.g. companies can now look into the exact location of their fleet & assets on the GPS. They can trace missing assets by location and other such information to effectively manage business.
6. Customer Loyalty :
Customer data is invaluable. Organisations today are able to not only record the customer data, but also their preferences, pain points and previous interactions. Customer loyalty scores can be calculated based on their historical purchases. Alerts and notifications can be sent to top management to address a customer need and respond proactively. Data integration makes it possible to collate all customer data & track service parameters.
7. Demand driven Models :
The digitisation and integration of information is changing business models. Alibaba, eBay, AirBnB are great examples of how demand driven businesses can generate truly scalable companies. Digitisation is helping companies to create demand driven ecosystems to reduce wastage & improvise services. With realtime data availability and interconnectivity, businesses can now forecast demand better. They can also improvise their services with digitisation to meet the demands. The innovation is driven by the demand and value to the organisation.
The emergence of cloud, big data technologies and fast internet is changing things around the world. Businesses today have access to huge amounts of data. Data doesn't sit on the servers anymore, it is very much part of the day to day decisions that executives make now. The mobilisation of data now means that most critical information is now accessible on the go.