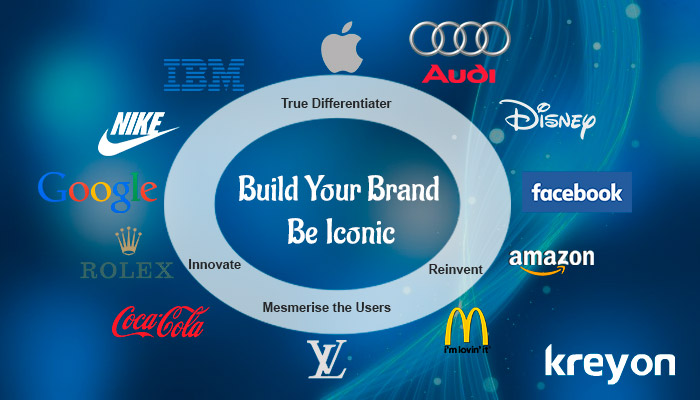 A great brand is not built by accident; it takes massive commitments and efforts to create it. An adorable brand is the dream of every business. And building one requires extreme persistence. With the unlimited number of companies today, it makes it harder to stand out from the crowd. With the massive reach of the internet, companies are now using every branding opportunity using it.  Internet is a great enabler and has become a catalyst in establishing truly dominant brands like Google, Facebook, Amazon, Alibaba, Tencent etc. Companies today need a strong online brand to reach global customers grow their business & create massive impact. Here is a look at 7 ways to create a strong Online brand:
1. Articulate What Makes You Different :
The top brands touch their customers on an emotional level. These top brands inspire their customers, connect with them deeply and make them proud of their association. The greatest brands are driven by a strong purpose, compelling vision and a message that resonates with their followers. What is in it for the customer? What are you solving for the customer? How are you going to make things better for them with your products & services? A deep connect with your customers is extremely crucial before they endorse your brand to others.
2. Design to attract people :
The essence of branding is to attract people. Designs are about expressing the brand. The look and feel of the brand's communications, products, services, advertisements and everything else has a telling impact on its customers. The design of a brand shapes its perception. For e.g. a brand like Virgin is designed to have a vibrant feel for its customers in line with the personality of the company. The color schemes, designs, content and messaging are meant to create attract the youth.
3. Offer them great Value :
When brands have a deep purpose, it is reflected in their products & services. Great value establishes credibility and rapport with the customers. Successful brands master the craft of differentiation from others with value they offer. For e.g. Warby Parker has built a distinctive differentiation with designer eyewear for its customers.
4. Communicate with authenticity & conviction :
In the world of internet authenticity is a precious possession. Companies like Amazon have been able to build successful empires and massively big company due to its authenticity. Customers should be able to trust you and what you say. In the digital world, if you don't fulfill your promises, the word gets spread fast. Brands build trust and win customers with authenticity.
5. World class content Creation :
Today the most successful brands are investing in content creation. The purchasing decisions made by the customer are influenced by the quality, frequency and usefulness of the content created by brands. A study from LinkedIn Technology Marketing revealed that the top things that make content effective are: Audience Relevance 58%, Engaging and compelling storytelling 57% & triggering a Response/Action 54%. Companies are maintaining blogs, writing whitepapers, creating compelling video content, Infographics, case studies, ebooks and webinars etc. to attract customers.
6. Blog promotion through Social Channels :
Today billions of articles, videos and other forms of content are vying for user attention. The best brands are creating content that is meant to address the needs of their users, entertain them or fill a need. They are also using social media channels like FB, Twitter,Youtube & LinkedIn for promoting their content.
7. Building Trust with Customer Service :
Everyone is selling to their customers, but very few are really serving them. Top brands create differentiation with top class services that customers can rave about. Great customer service is a sure fire way to create a top brand. When your brand gets talked about for its customer services, it is a sign of confidence. Companies that have the best interest of their customers at heart take the leap and build global businesses.
The most valuable companies on the planet are those that establish the strongest bonds with their customers. These brands like Nike, Apple, Coca-cola, and Google create brand advocates and not just customers. These top brands win and influence people to create a cult and fan following of sorts. The online medium has shaped the way these companies are built and serve their customers. And businesses around the world are increasingly looking at Online branding to create scalable, globalized, and agile companies.