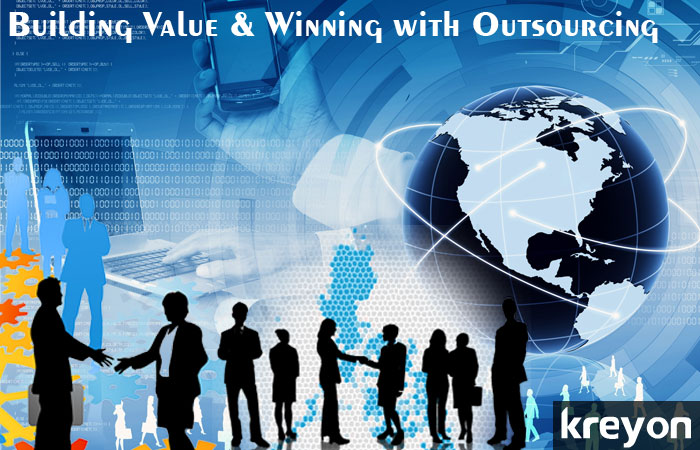 The traditional mode of work was bound to time, but today's work is about creating value. We live in an era where technological skills become obsolete very fast. Organisations are increasingly pressed to improve process speeds, focus on core business areas, cut down costs and improve revenues. One of sure fire ways of achieving this is to outsource tasks, especially those not related to core business areas. Outsourcing is one of the ways companies can tap into the talent pool around the world & build a global business.
The renowned management consultant, Peter Drucker once said, "Do what you do best & outsource the rest."  With internet becoming all pervasive, it is far easier than ever before to remain connected with the virtual work force. The goal of outsourcing is to create value. A look at how companies are outsourcing work & building global businesses:
Evaluate Work:Companies which are extremely successful have a way to figure out their core areas of expertise. Whether it is the managed technology services or functional areas like payroll, human capital management, finance,

digital document management

, successful companies are able to outsource these tasks.
Milestone based Work:One of the most significant advantages of outsourcing is you pay for the work not time. Milestones are clearly articulated to the offshore development companies based on client's business requirements. The progress, quality, deliverables are tracked on the basis of these milestones.
Talent Pool:A global workforce with diverse skill sets can change the trajectory of business. With outsourcing it is possible to tap into the talent pool of remote countries at competitive rates and top quality. You can get quality

software developers

when you need them.
Integrated Solutions:Outsourcing tasks with clearly defined roadmaps and ownership make things easy. In most situations, an offshore company that can offer end to end integrated solutions is better than multiple vendors.
Working Partners:It is always helpful to work with a company that shares your values, passion and commitment levels. Offshore companies are partners for organisations. The end goal & objectives of both should be the same. Organisations that successfully outsource tasks create win-win partnerships with other companies.
Communication:Establishing a clear communication plan can help you to meet your needs for outsourcing. The medium of communication, frequency and service level agreements should be well clarified to both parties.
Support Plan:A good offshore development partner provides excellent support as per the needs of the business. A good support plan includes all relevant contact details and with high alerts to the top management for best results.
Business Continuity:An offshore business is often located in a country with different time zone. This adds more working hours for businesses & business continuity during time when they are off. Whether it is handling customer escalations or other critical tasks, additional hours from offshore teams can add value to organisations.
Reduce Costs:Managing full time employees and their perks are often expensive for companies. However it is easier to subcontract work where organisations only have to pay for the delivered work. Most companies are able to reduce costs drastically by outsourcing work to offshore centers. They also speed up execution of work by employing more people on offshore development centers.
Tangible ROI:Organisations that successfully outsource work make it easy to measure the results. Well defined metrics and ROI should be articulated to the offshore partner. The deliverables for the project, quality of work and timelines along with other metrics can be used for ROI calculation.
The information technology is a key enabler for outsourcing today. Business process automation and managed IT services are among the top outsourced services by companies. Outsourcing has become one of the key drivers for cost cutting, quality assurance, & global workforce management. It offers a significant competitive advantage, enhanced work & top performance for companies.
Kreyon Systems is an offshore software development company providing high quality services to clients around the world. We build high quality and scalable software products for business. If you are looking for an software company for outsourcing, please get in touch with us.