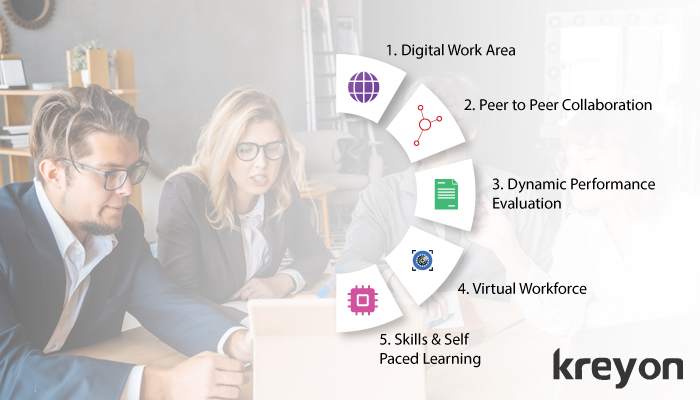 92% corporate executives and employees agree that a company's tendency to hit or miss deadlines will impact bottom-line results. A cloud HR software is an integral requirement in creating a high performance & thriving workplace.
Collaboration, creativity and productivity are super powers on which great organisations are built. Teams are no longer judged by the number of hours they put in at the office, but by the sheer quality, efficiency & value of their work. The HR software can bring all the teams on board and align them in the right direction.
86% of employees and executives cite lack of collaboration or ineffective communication for workplace failures. Companies are looking to provide effective tools to collaborate, communicate & enable workers do their best work. HR Software tools that help employees to track their work, communicate with teams and evaluate their progress are very utile.
Here's a look at some of the ways to raise the standards and performance of your teams quickly.
1. Digital Work Area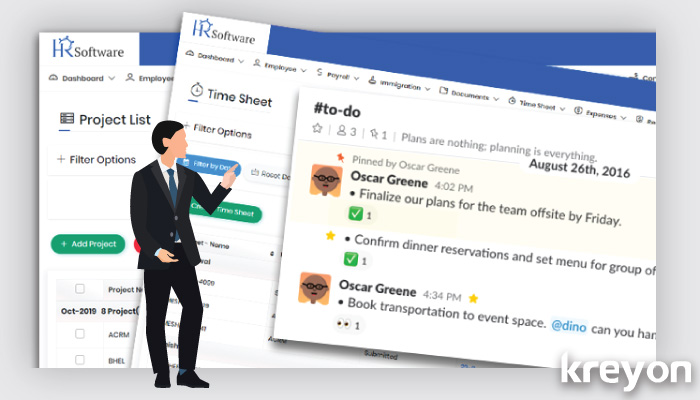 For top performance, you need focus. A digital workplace will declutter your physical workplace and help you focus on things you need. No more files and lose papers on your desk. The digital tools enable teams to zero in on the most important items that need their attention. Some of the items in your digital work area are as follows:
a) Projects: You can see all the allotted projects, documents and important activities related to them.

b) Tasks: A simple task list where your managers and supervisors can assign you work and you can respond to them.
c) Timesheets: The timesheets are effective in sharing your work status on specific work items and share them with the clients too.
d) Todo lists: This is your personal todo list to help you organise work & life effortlessly.
e) All compliance documents: Your payroll tax documents, your IT returns, agreements, appraisal letters etc. 
When your work gets organised, it gets done quicker. The HR software allows companies to build tools that help teams achieve more in less time and work with a high degree of efficiency.
2. Peer to Peer Collaboration
How effectively teams communicate and collaborate with each other can have a telling impact on the outcomes. Studies have shown that most projects are often derailed due to poor communication.
The digital workplace tools help employees and teams communicate with ease. These tools help teams to discuss issues, track work, todo items and organise all workplace documents together. The team members can also share information with each other relevant to their scope of work and help other members.
The peer to peer collaboration can help managers and supervisors stay on top of the project too. The team members can chip in and contribute to ensure that overall deliverables are met.
3. Dynamic Performance Evaluation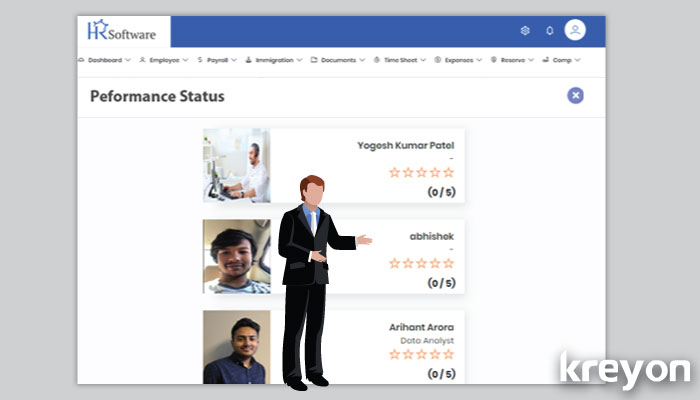 The HR software as a service tools help organisations do performance evaluation dynamically. Organisations can define their own templates for gauging performance of teams. They can decide their own parameters and link them to projects, tasks and company performance.
Every individual can see their goals, deliverables and key milestones. The employees can also see how their performance is evaluated and affects the company. The feedback process is dynamic, every task and project is evaluated in real-time. It makes performance evaluation more pertinent and objective.
The feedback process is extremely crucial for performance of individuals. The dynamic evaluation of work makes it easier for people to analyse their shortcomings and work on improvement areas.
4. Virtual Workforce
Researchers say that 70% of people across the world are working away from the office at least once every week. Remote work or telecommuting is on the rise. Organisations are using virtual workforce for completing their projects and tasks. With cloud based HR tools, companies can now control their projects and work with diligence.
The virtual workforce capability can allow employees, contractors, remote employees, clients and other stakeholders to collaborate seamlessly. The virtual office is geared for productivity, efficiency and meeting the milestones. 
Organisations understand that virtual collaboration allows them to bring niche skills on board, improves employee retention and helps them get their work done productively. These tools help the company focus on the deliverables and meet their goals.
5. Skills & Self Paced Learning
The future will be more demanding than today. There will be no place for teams with outdated skills. The right HR software can help an organisation help employees learn at their own pace. The employees will be able to enhance and improve their skills while working on the projects. The self-service HR portal can provide all the knowledgebase, wikis and key resources for employees.
The employees can learn, practice and apply learning at their own pace. Once the trainings are completed, employee competency can be evaluated.  The scores from the trainings can be used as an incentive for learning and growth of individuals. The employees can upgrade their skills in line with the project needs for an organisation as well as develop new ones.
The employees can also introduce new technologies and innovations based on their learning. The innovative ideas, proactive attitude and learning helps employees improve their performance and keep the organisation vibrant too.
Kreyon Systems has great expertise in implementing end to end HR software for growing  organisations. If you are looking for any assistance to streamline your HR activities or business operations, please reach out to us.