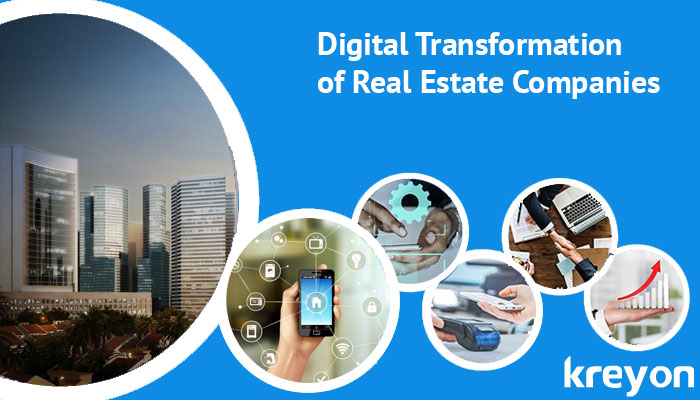 Real estate companies like most other businesses are now relying on technology for operations. The digital transformation of real estate is moving at a rapid pace. Online buying and selling of homes, rentals for properties is driving these changes.
As per Forbes, 95% of buyers use the internet to look for homes, and 51% buy homes that they have found using the internet. Apparently majority of the people are choosing online options for buying, selling & renting their homes. The digitisation of real estate is creating transparency in property deals, facilitating easy access to property buyers, tenants & making things easier for the agents.
Here we look at how real estate companies are undergoing digital transformation:
1. High Quality Virtual Tours:
The digital technologies have made it easy to create high quality virtual tours for the properties. Real estate companies are creating dynamic portals with the property listings and virtual tours. These virtual tours provide 360 degree view of the property and its surroundings. It is as good as viewing the property on the site.
Users can mark properties as favourites, take virtual tours and even compare various property listings. These technology enabled tours enable a wider range of property portfolio for agents and real estate companies.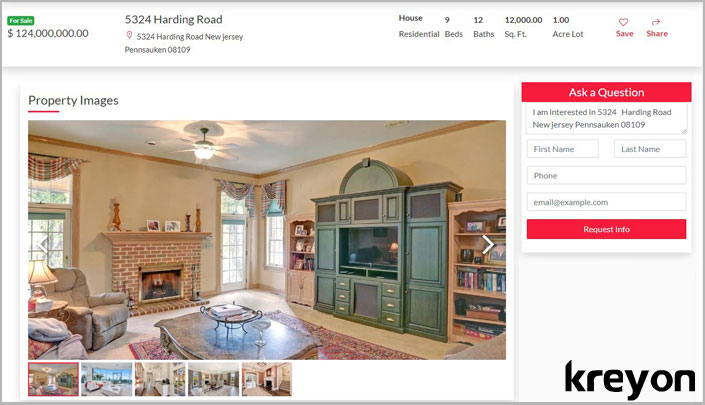 2. Google Maps:
One of the most fascinating developments around the real estate is Google maps. Today the advancements in mapping allow you to virtually visit the house on your device. The street views, vicinity, nearest landmarks and the property are all mapped with very high accuracy. The street   view of the property is where you can take a virtual ride and walk around the property you want to buy or rent.
The real estate portals with advance mapping capabilities allow users to choose regions via markers. All properties in a given location can be listed as per user preferences. These capabilities allow advanced property selection for users. So, you can locate properties in a chosen area of your choice.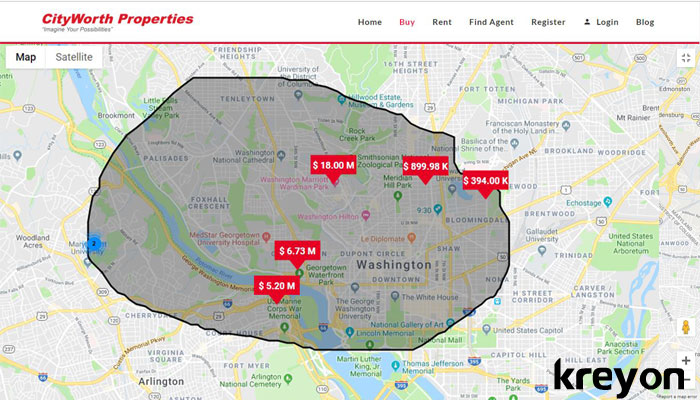 3. Smart Home Automation:
The smart home automation is growing fast, more and more homes are now equipped with automation systems. The smart home automation allows sensor based locking, remote locking systems, light control and even tours without anyone at the property. The IoT based systems allow people to show their properties remotely without involvement of agents to be present at the site.
4. Quality listings with IDX:
The internet data exchange allows real estate companies to manage quality property listings up to date with real time information. The IDX data can be integrated on your real estate portal to display the latest property listings. The multiple listing service allows real time data from multiple agents and companies to be exchanged real time.
This data is useful for displaying a wider range of properties with up to date details about property, its past transactions, official records and other details.  The quality IDX listings ensure that you reach a wider range of customers and manage your real estate services online.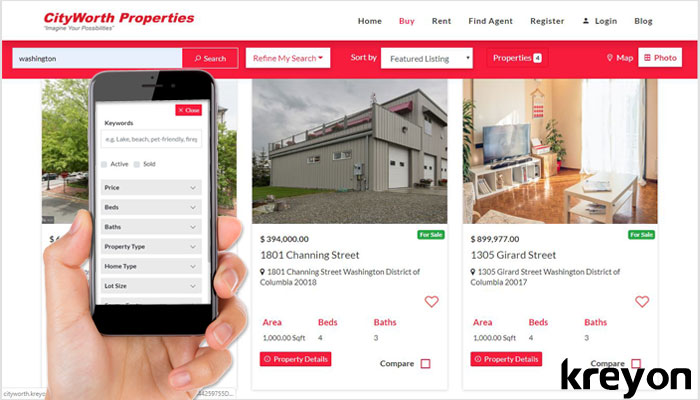 5. Instant Valuations & Estimates:
The real estate companies are now offering instant valuation services with real time IDX data. Many companies use online tools for estimating the value of a property and provide quick estimates to users. The online estimates for property are improving all the time.
The property inspections and site valuations can also be requested by users online. The real estate company can get leads and enquiries for valuations, which can then be taken up by valuers to provide valuation report for the property.
6. Public Data & Quality Indicators:
The real estate companies can now manage quality indicators for properties using the online data and aggregation tools. Some of the key quality parameters that can be tracked for property are as follows:
i) Walk Score:
The walk score indicates whether the property has a walking space and its quality. A high walk score is a good sign for those who want to go for walking and aerobic exercises etc.
ii) Greenery & Surroundings:
Another quality indicator is the greenery and surroundings of the property. The greenery score and surrounding areas can be evaluated by users before they opt in for the property.
iii) Nearby Locations:
The nearby locations can be used to find out the nearest schools, gas stations, shopping malls, gyms, restaurants, parks and other points of interest.
iv) Land Records & Registration details:
The digitisation of land records, ownership details and previous registration details etc can be availed using MLS listings. The property records are getting digitised, which will increase transparency in property dealings further.
v) Median Sales Price & Value Score:
The average sales and rental values for regions are available with online real estate portals. The value trends for property for historical data are also available. In short, the value score for investment in a property can help the customers to buy the property to maximise their returns from it.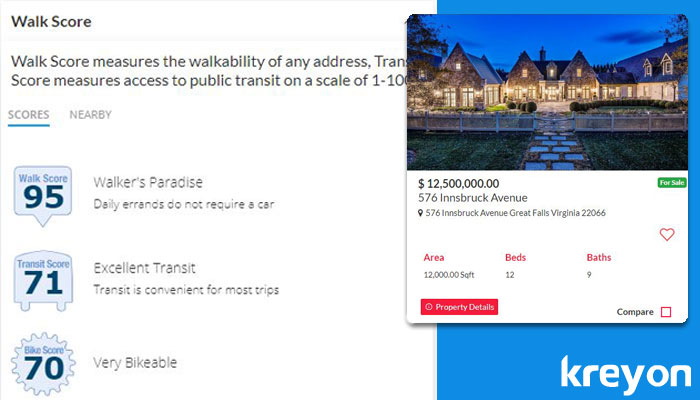 7. Mortgage, Rent or Buy Options:
The online portals offer tools to suggest the best options based on your current incomes, loans needed for buying or renting property, availing mortgage loans, EMI options, value investments etc.
The online real estate platforms can perform the role of automated advisory based on the data inputs. It will be able to tell you whether you should go for a rental home or buy one based on your income, current liabilities and other goals.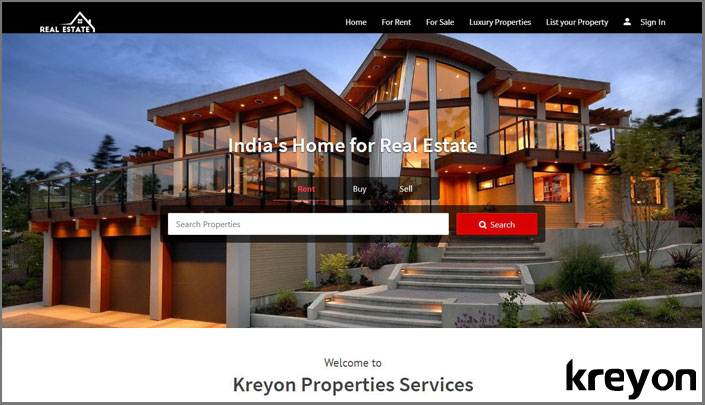 8. Real Estate Advisory, Leads & Services:
The real estate portals offer a convenient way for customers to avail services from real estate companies. Whether you're looking for a luxury home for your family or an investment for maximising ROI, real estate companies can now use technology for assisting their customers.
The valuation requests, home value added services, maintenance and advisory can all be driven with online real estate portals. Real estate companies can organise their contacts, leads for properties and services from the portal itself.
9. Real Estate business:
The administration of real estate business can be done quite effectively with a dynamic real estate website. The multiple data sources can be aggregated to create an integrated portal with all property listings for rentals and sales.
The data for agents can also be organised. These agents can also get leads from the integrated property portal. For e.g. if an agent lists the property on a portal and customer makes an enquiry, the lead will be routed to the agent. The real estate company will also have centralised leads for all properties.
The real estate software solutions on web and mobile are creating new business opportunities.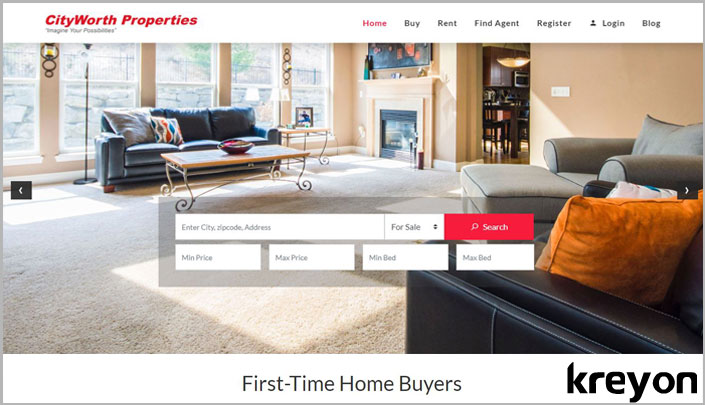 Conclusion:
The marketing, communication and administration for real estate business can be driven with an integrated web platform. The new developments and technologies offer great opportunities for real estate companies to win their customers and generate more business.
Kreyon Systems is a software company with global real estate expertise. If you are looking for any assistance for creating a property site for real estate, please get in touch with us.