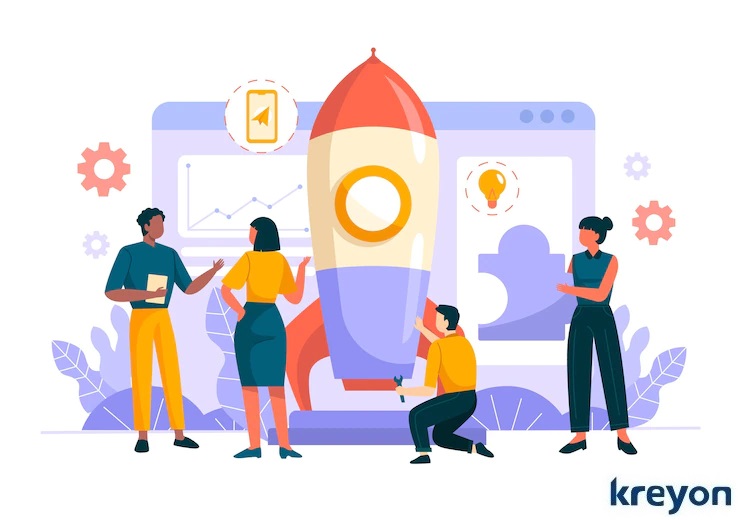 An integrated business application software is at the root of driving an AI enabled enterprise. The cost of delay in taking a business decision can be costly with an increasingly competitive marketplace. 
But an AI enabled organisation can provide predictive insights to take decisions more swiftly. The AI driven organisation can help businesses take the steps according to their business goals and objectives. The data collected from business functions like sales, marketing, talent management, personalised customer support, finance, accounting, and IT etc.
The AI driven organisation uses enhanced learning techniques to devise strategies that can help them act swiftly to meet their business goals. Here's a look at how business application software can be used to build an AI driven organization. 
1. Virtual Teams & Hybrid Offices:
Managing the talent pool across locations and different offices is best managed with the use of technology. The business application software can help teams collaborate, build and contribute effectively using AI.

The assisted chatbots for employee FAQs, supervising trainings for new employees, providing relevant and contextual information for employees based on their roles, locations and projects etc. can be dynamically managed using AI driven software. 
A dynamic AI based team collaboration tool creates a virtual office. It can be used to manage the operations and work from any place or location.  The AI software provides integrated Interface for business administration and managing employees from either office or home.

The key indicators governing performance can be monitored online with triggers for new project tasks, approvals, employee activity, customer escalations and other important events.
2. Talent Management & Analytics: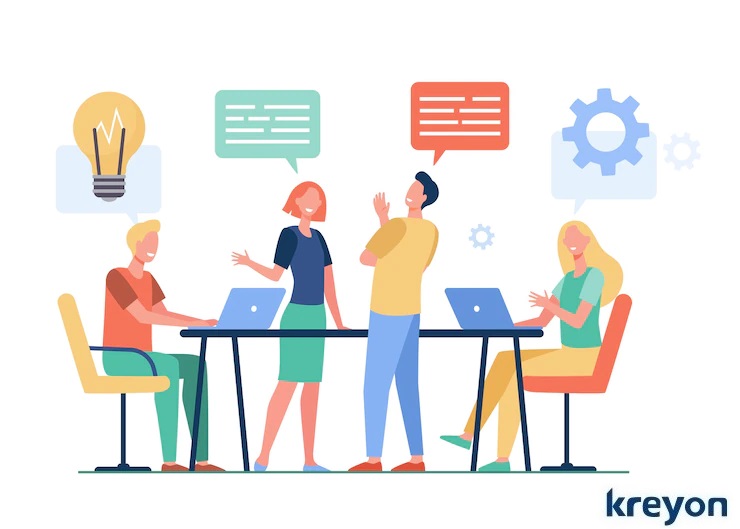 The web is a great place to attract talent for your company. It showcases your business to the prospective candidate who wants to reach you. However, online recruitment can be a challenge.

As many top businesses get plenty of job applicants, the hiring process can be automated using AI algorithms. The location of the candidate, their social profiles data, academic credentials, skillsets and verifiable track record are some of the things that AI based algorithms can validate.
The AI based recruitment process eliminates the candidates that don't fit the bill for your company. Only the candidates whose backgrounds have been verified can be moved to the next level. It can help your company recruit better quality talent and authentic candidates.
3. Product or Services Marketing Automation: 
One of the most important aspects of an organization is to generate revenue consistently to grow the business. The products or services need to be pitched to the right customers that fit your criterion.

Companies are looking to build intelligent automation into their business. AI driven algorithms are helping companies make more sense with their data. 
Take for e.g. given a product or services, who are your target customers and how you can reach them. This is a complex problem for businesses when they do it manually. However, AI algorithms are helping companies generate contextual leads based on heuristics that best match their criterion. The data from the web, LinkedIn, Twitter and content leads etc. is then analysed to provide the most relevant leads for the organisation.
4. Customer Experience Management 
One of the key requirements for businesses today is to improve the retention rates for their customers. Across industries, it costs more to win new clients than to service the existing ones.

A lot of traditional businesses are experimenting with SaaS based products or services too. But many of these companies can significantly improve their retention of customers by improving their customer experience management.
When customers get attention and are onboarded to solve their problems, they stick around. Customer experience is shaped by helping users to uncover value from your product or service.

With AI, you can personalise recommendations, help tips, provide contextual emails and messages to users, ultimately leading to more loyal and engaged customers. The AI engine at the background is processing information about the client, their usage patterns, industry requirements, user roles and needs etc. It helps to connect and engage with customers proactively.
Organizations can make maximum impact with more focused, relevant, & personalised interactions with their customers.
5. AI Based Demand Forecasting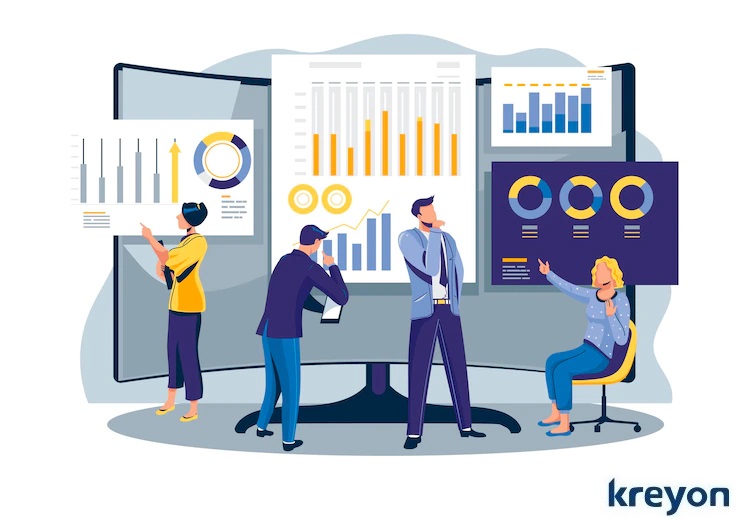 AI based business application software can be used for predicting the revenues and sales for an organisation with greater accuracy. The AI algorithm uses data from all the sales and marketing teams, & computes sales revenues based on advanced heuristics.

The data from previous years, average resource costs, changes in the market based on the latest news etc are taken into account before providing demand forecasting. 
Companies can predict and estimate their growth rates and earnings with greater confidence using AI based technology. The AI software also helps sales teams to improve their performance by providing them well qualified leads, providing them actionable prompts to take the next steps in closing the deals and by assisting with improved customer interactions too.
6. Document Processing System
Documents and standardized templates can be used to run a business more effectively. For e.g. when tasks are sent for approvals to managers, a standard process can be incorporated to improve communication. For meetings, a standardized circular before the meeting and minutes of meeting with action steps by particular dates can be sent to team members. 
The digital document system can enforce organisational footprint in a wide range of processes. It can also provide actionable inputs to employees for improving the quality of work.
Documents can be shared according to roles, business functions and hierarchies maintained by the organisation. Business process approvals, workflow and information sharing can be managed using a digital document system that uses AI.
The document processing uses AI and machine learning, for document classification, predictive analytics and making decisions. Document processing can help companies manage various business functions like:
Approvals and reporting for business tasks
Support documentation for completed works with assisted writeups
Invoices, Accounting, Bookkeeping, Quotations and Other templates Needed for Business
Online verification of documents
Legal documents with automatic reminders as per clauses 
7. Digital Content Management
Content management is a rich source of lead generation for B2B companies. It also helps them manage their online reputation & branding. A corporate blog can be used to create awareness about a company's products & services. 
Companies spend a lot of money on creating a strong digital footprint. However, with AI based tools, the companies can proactively manage their content creation, marketing and lead management process. The traction and response can be measured using AI based tools.

The AI based algorithms can be used to manage the top performing content. It can also figure out the most relevant comments, leads and business contacts on social media channels with relevant interest in your content. The AI algorithms help you analyse streams of data for your specific products and services.
8. Assisted Intelligence for Business Targets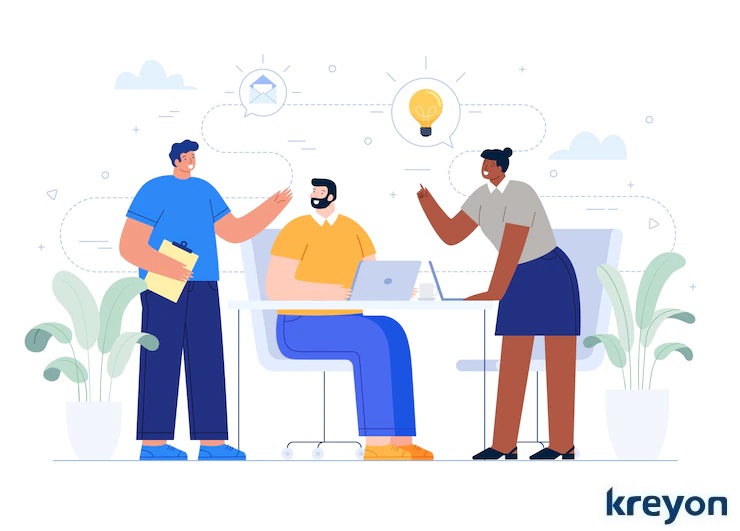 The AI based web application software has the potential to create new opportunities for a business. The dynamic data streams from social media and web can help a business to explore such opportunities.  The opportunities could be related to new channels for distribution of products, franchising options, partner enquiries in new geographies etc. 
The web application software manages these opportunities with an integrated tool that can connect to your corporate website. The AI helps your company create a more personalized user experience. By understanding the pattern of user's browsing, social media data and buying history, your website can be modified to suit the tastes of the visitors.

It can offer the user personalized discounts on items of interest or offer specific services needed by the users. AI can help your business crawl the data from the web and offer recommendations, which may be useful for your products or services.
For e.g. retailers might be running offers on particular items in your location and your company could be advised to offer similar, if not better discounts to your customers.