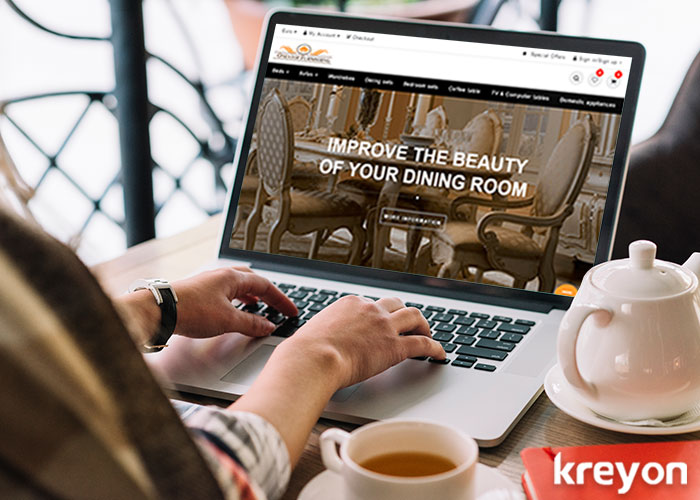 The furniture ecommerce sites and stores are booming with online sales. As ecommerce industry is evolving, there are growing avenues for the furnishing industry. Many furniture retailers are creating a strong online brand presence and increasing their sales with online stores and ecommerce portals.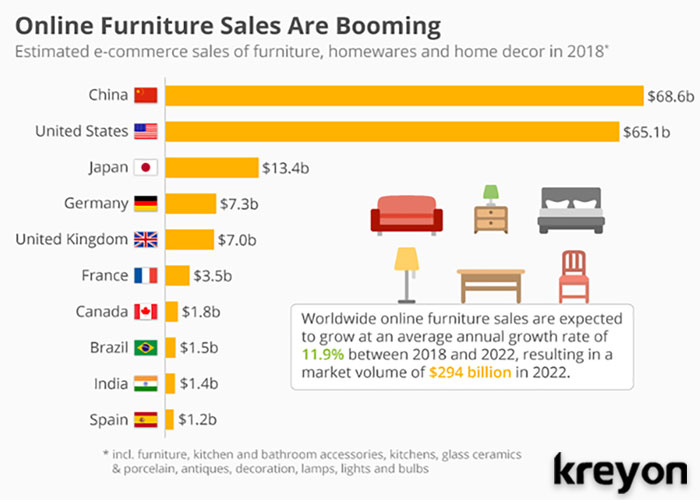 Gone are the days when people bought books, DVDs and small equipments from ecommerce sites like Amazon. Today the online sales is evolving into gigantic proportions with pretty much everything available through ecommerce portals. Many retailers are exploring options for launching their own ecommerce portals, others are leveraging third party ecommerce portals like Alibaba, Amazon, Flipkart etc.
The online furnishing market is growing rapidly. According to Statista's Digital Market Outlook, worldwide furniture and homeware sales were close to $190 billion in 2018 alone. The total sales is expected to be $294 billion by 2022.
China leads the online furniture sales with estimated sales of over $68.6 billion. The next biggest online furniture market is in USA with sales of $65.1 billion. Japan rounds up the third position with $13.4 billion sales.
Buying furniture has now become quite common online. The customers prefer the online buying due to convenience and comfort of logistics and shipping of furniture items to their doorstep. The ecommerce portals have great features to attract digital customers and provide new growth options for furnishing retailers.
Here we look at how these furniture retailers can benefit by having an online store:
1. Greater Selection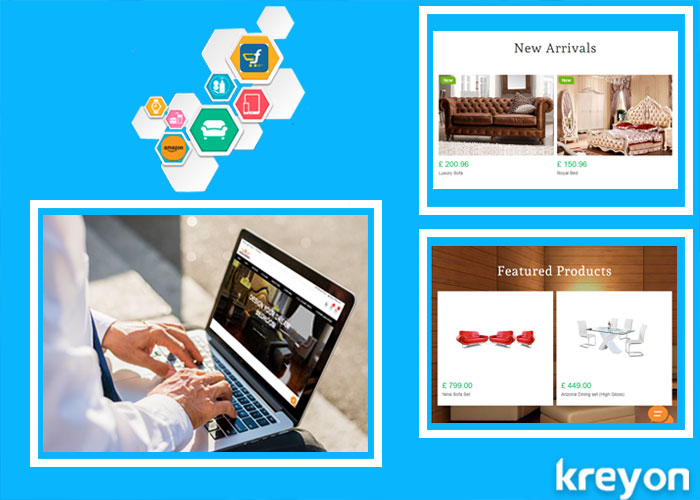 The furniture stores can offer greater choices, variety and selections for customers with an
online store. With a physical store, the space is limited. But an online store offers practically
unlimited space and options for users. The users can also choose various colors, textures,
and dynamic combinations to choose the furniture they want.
2. Customers want Ease & Convenience
The ecommerce store offers free shipping, logistics support and returns for the customers.
An online furniture store makes it very easy and convenient for customers to get things done. For young professionals, students and busy house holders, the online options for furniture make it compelling.
Many online furniture stores also present hassle free recurring payment options for
purchasing large items for increasing sales.
3. Grow Offline Sales with Online Store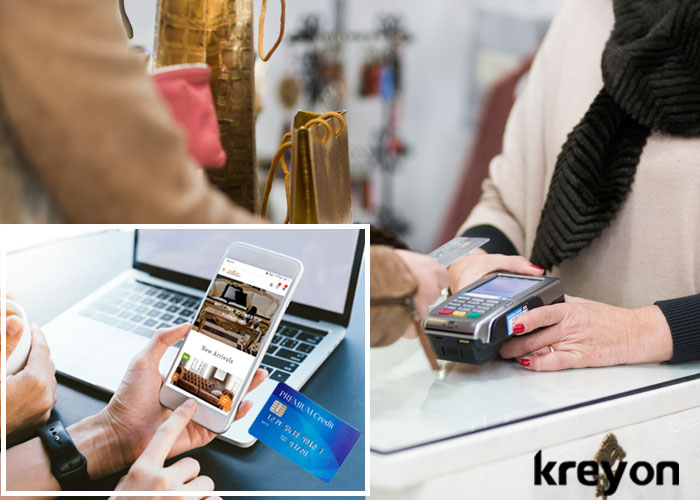 An attractive and top class ecommerce website generates offline sales too. When people
search furniture online, chances are that your site will be listed in the results. Most users
today do an online search and gauge their options before going to the physical store.
An impressive online store will improve your footfall, rank higher in local search results and
would be able to boost your offline sales too in the long run. An online store has a great ROI
over a period of time.
4. Use technology for Profit and Growth
An ecommerce store creates an organized inventory, helps you analyze fast selling items
and manage your operations with efficiency. When you generate sales from an online store,
you don't even need to pay sales commissions on it.
You can also manage your inventory, product categories, publish and unpublish items on the
ecommerce site based on the stock availability. You can organize your best-selling items,
most profitable items, new arrivals, festival discounts etc using online store. In short, the
online store uses technology for optimizing resources and growing profit for your business.
5. 3D Technology and Virtual Reality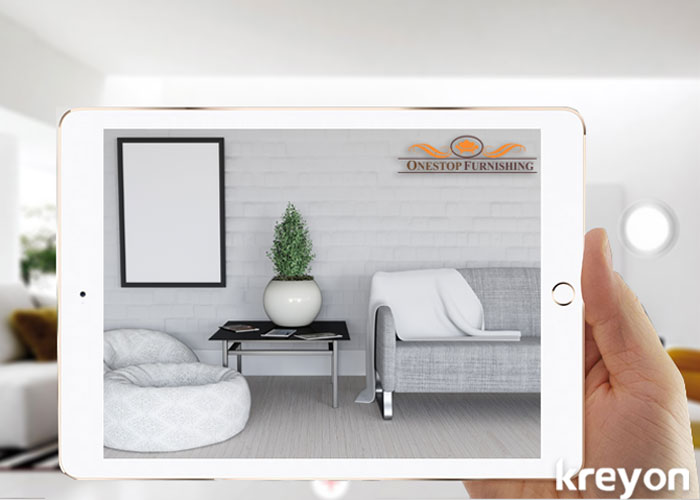 Furniture brands and companies are driving great customer experiences using technology. These companies are offering online 3D experiences for furniture selection, where customers can preview various options, choose colors; change backgrounds and pretty much customize their furniture.
The virtual reality tools are helping customers to get a great look and feel of the furniture before they buy the goods. Customers are able to use online help and self guided tools for buying furniture.
You can explore more reasons for starting an ecommerce website for your business here.
Conclusion
Even in places like India, there has been an increase in online furniture sales. The furniture stores are coming up with their customised online stores tailored to their business. In India, the market size of online furniture was $1 billion in 2017, it grew by 40% to $1.4 billion in 2018. It is expected to grow 36% year on year according to industry experts.
The custom ecommerce websites and portals for furnishing industry will continue to grow considering the online demand. If you need any inputs or assistance for implementing an ecommerce portal for your business, please get in touch with us.