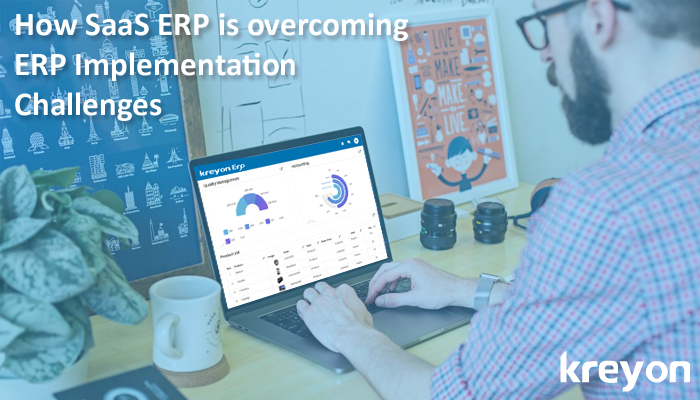 As per computer weekly report, ERP and CRM remain as the strongest types of business applications, with 53% of businesses naming these as priority investments. ERP software implementation can be complex due to costs, time and customisations. The average cost of implementing traditional SAP ERP, Oracle or Infor etc ranges in millions of dollars & average implementation of over 15 months. But the SaaS ERP alternatives are preferred by businesses today due to cost, time & flexibility of implementation. 
Often the implementation time, customisations, feasibility & requirement analysis can make ERP implementation tedious. With Kreyon's cloud based ERP software, it is easier than ever to build the right ERP for your organisation. The software as a service ERP offers a great way to manage business operations for small, medium and large enterprises.

Here's a look at how SaaS ERP is making organisations run their businesses better without the complexity of traditional ERPs.
1. Time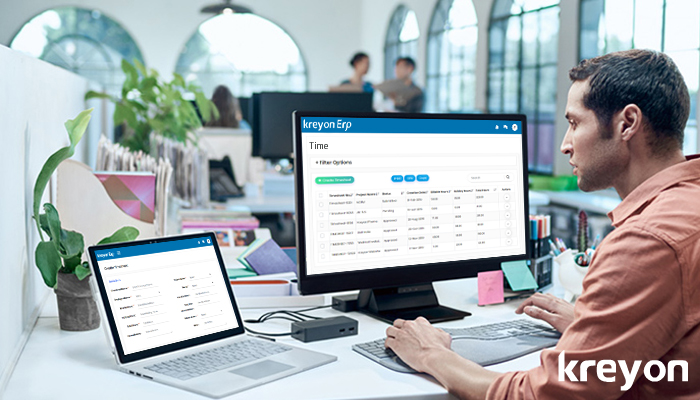 Time is greater than money. The time for traditional ERP implementation can take several months and even years. But the rate of changes in business happen very rapidly making it hard for organisations to derive true benefits from their ERP software.

The cloud based ERP software offers solace. It can be offered almost instantly with ready to use functionality, adding users and setting up an organisation is swift too.

The time for implementation of an ERP depends on the modules, business processes, locations, number of users, legacy components etc. However, with SaaS ERP organisations can get up and running faster than traditional ERPs, which can take years for implementation.
2. Budget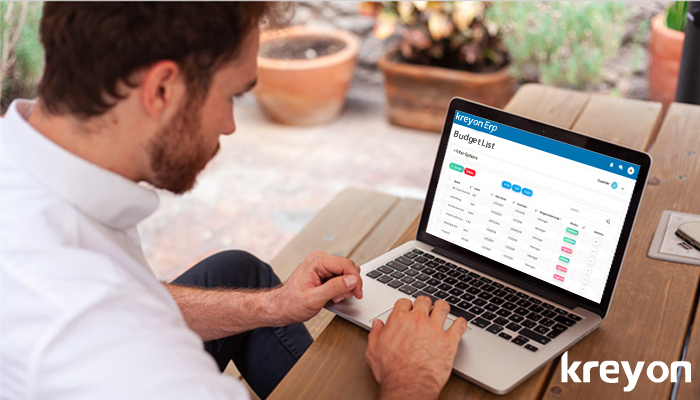 As per the 2019 ERP report, the average budget for ERP implementation was $1.07 million, however, organisations actually spent $1.24 million. The budget of ERP can go overboard in most cases. Infact, going over budget is one of the biggest pain points with traditional ERP implementations. 
45% clients experienced budget overruns for their ERP implementation. The project costs for ERP software can be difficult to estimate when requirements are not clear. The change in scope, functionality can lead to unexpected costs.
The SaaS ERP makes implementation costs more predictable. The cost of infrastructure, database, implementation, recurring costs are typically shared in a multi tenant system reducing the ERP software cost.
3. Customisations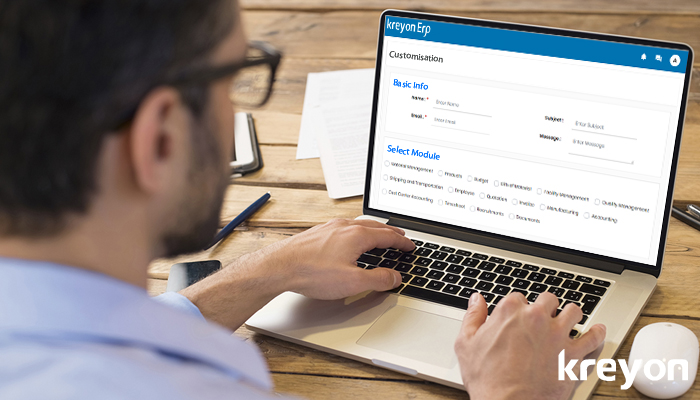 One of the most critical factors in ERP implementation is customisations. Traditional ERPs are outright hard to customise. The consultation phase itself takes months to figure out the key requirements and implementation can take more than a year.
The complexity of ERP implementation increases with customisations. Businesses prefer customisations because they want to tailor the software to serve their business needs. The customisations also provide the organisations with the competitive advantage. Custom ERP gives the leverage to use features and build them as per business needs.
SaaS ERP can be customized as per client needs. The customisations can be done typically in phases. The ERP implementation can be rolled out by modules, business functions or locations as per organisational requirements.
4. System Integration
System integration is a crucial part of ERP implementation. Organisations are increasingly looking to integrate their systems to get a single source of data for the entire business. While the traditional ERPs mostly host their data on-premise, integrating data and systems can be quite tedious and complex.
SaaS ERP makes integrations easier than on-premise ERP software. The best of breed softwares can be used for various business units, but an integrated database serves powers them. For e.g. companies may use a specialised system for Help Desk Management or Call Center operations, but the centralised ERP application integrates with all these applications.
The cloud based ERP system uses data for business. The data no longer sits idle, but is actively used for making better decisions, driving the organisation and providing the competitive edge.
5. Strategic Change Management
84% of organisations reported either a moderate or intense focus on change management. Companies use ERP for implementing new strategies and organisation wide changes.
Business process improvement, compliance management, data reliability, interactive & agile organisation & implementation of the best practices are among the key areas companies want to capitalise on with ERP software. The SaaS ERP makes it possible for businesses to structure and carry out these changes across locations, business units and the organisation.
6. Data Migration & Legacy Applications
Legacy systems and data can be tricky. The data migration plan, integration, retention and archival strategies are the backbone of the ERP implementation. The data migration efforts should be part of the ERP implementation cycle. Most organisations use legacy applications for keeping some of their business data.
If data migration activity is not accounted for, it can cause an ERP implementation to go haywire. The ERP software should be equipped to enter the legacy data through automation. Once the scattered data is integrated, the ERP system can be very effective in running the organisation and meeting its key objectives.
7. ERP Software Outcomes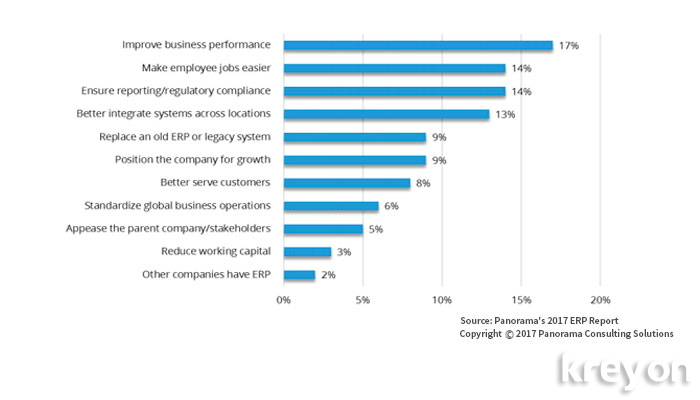 As per Panorama ERP consulting report, 17% of businesses reported using ERP for business performance, 14% to ensure compliance, 14% to make employees job easier & 13% to better integrate systems across locations.
The successful implementation of ERP ensures meeting the key result areas for an organisation. The KPIs for ERP can be implemented keeping in mind the organisational priorities. Typically, a large public enterprise will have very different needs than a typical SMB client.
The ERP software should ultimately lead to improved business outcomes and results. It should make an organisation more agile and interactive to respond to the market place challenges.
Kreyon Systems has experience of building end to end ERP software for clients in various industries. We customise and tailor the ERP software according to the needs of our clients. If you need any assistance with ERP software implementation, please reach out to us.