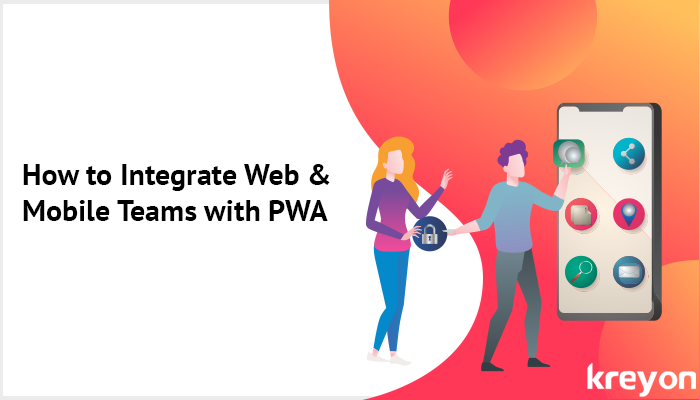 PWA is making it possible for many businesses to combine their mobile and web teams. The experience between mobile site and app is blurring these days. It no longer serves a great deal of purpose for most organisations to have separate apps and mobile websites. Many of them are now combining their apps and mobile site into one.
With the advent and advancements in progressive web apps, the best of mobile sites and apps can be combined with PWAs.
The mobile app users have had their reasons for not switching to the mobile web, but with PWAs most of their concerns are addressed. A progressive web app offers app shell, offline access, navigation bar, performance and even many device specific features.
Here we explore reasons your business can integrate web and mobile teams using progressive web apps.
1. No need to have Separate Teams:
Most businesses also find it hard to maintain separate platform teams for Android, iOS & other platform apps. Supporting multiple platforms can be tedious for companies. There are often separate platform teams for every platform and they need to synchronise all changes for consistent user experience.
It is also hard to synchronize things between web and mobile teams. There is additional cost and time associated with the developments. With mobile site and PWA, a single codebase can serve for web and mobile users. The time to market and cost of developments are also reduced with PWA.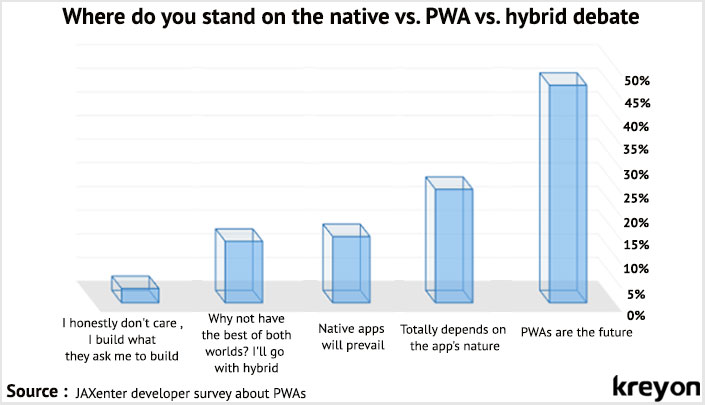 2. Easier Accessibility for Customers:
Accessing a mobile site or PWA is very easy for customers. They can access it through browser or add the PWA to their mobile home screens. With the overload of apps, customers often find it hard to find them on app stores.
The PWAs don't require any install time and can be used instantly without going through app stores.  It provides a much more convenient option for customers. Trivago, the travel related app saw an increase of 150% people who added its PWA to their home screen.
The Google case study on Twitter progressive web app found an increase of 65% increase in pages per session, 75% increase in tweets sent  and 20% decrease in bounce rate.
3. Consistent Experience:
Consistency is synonymous with good experience for users. Today when users have plethora of devices and platforms, it is easier to get lost. Consistent user experience, design and functionality can make life easier for customers.
A progressive web app or mobile website can help businesses to maintain consistent experience. The consistent experience can help to improve visitor engagement, conversions and business opportunities for brands.
Pinterest rebuilt their mobile site as a progressive web app with amazing results. The core engagements increased by 60%. Pinterest saw an increase of 44% in user generated ad revenue & time spent on the site increased by 40% too.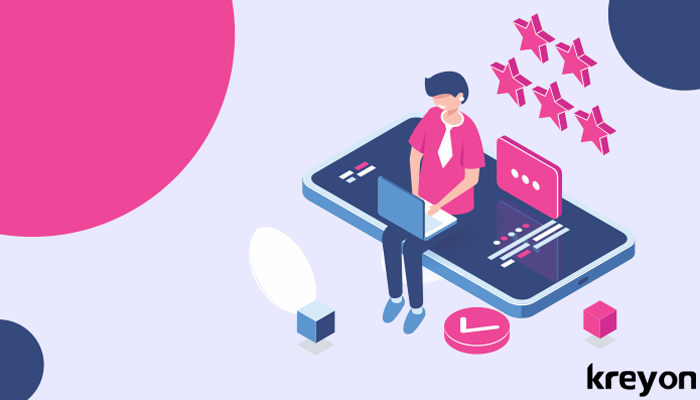 4. Search Engine Visibility
The world's most convenient source of information is Google. Most of our basic  queries start with a simple online search. When you build a PWA or use mobile web, the chances of users finding you are much higher compared to an app. The progressive web apps are optimised for search engine optimisation and help users find your site easily.
Although, Google doesn't give any preference to PWAs, but they do cover the basic needs for a site to rank higher by design. The progressive web apps have optimised loading time, include meta data, mobile friendly design, keywords in headings, are accessed over https, which helps with SEO.
5. App Stores
Statista reports, as of March 19, there are more than 2.1 million apps on Google play, over 1.8 million apps on Apple's App & over 0.669 million apps on Windows store.  The app stores have become overcrowded. When you submit your new app to these stores, chances are that your app will be unnoticed. No one will bother about your new app & you still have to go through the pain to submit the app.
The progressive web apps offer an alternative to App stores. No more stringent guidelines, policies and waiting for reviews of your app. You can create your progressive web app and make it available instantly for the users.
The progressive web app can be accessed through the URL or the mobile. With PWA there is also no need to update your app on App stores after every update. The users are able to instantly access the latest versions of your app automatically.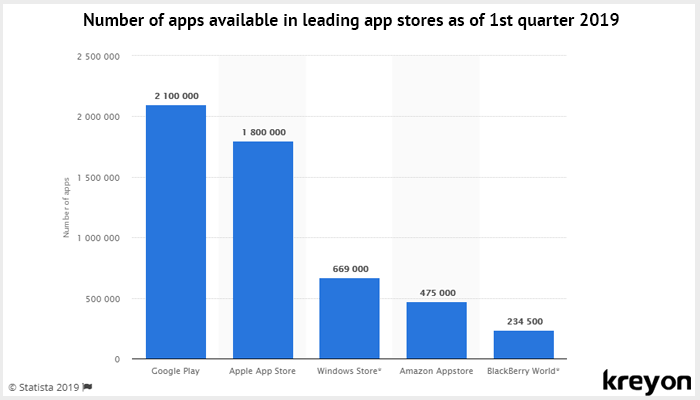 Conclusion
According to U.S. Mobile App Report by ComScore, mobile web drives traffic growth. The report indicates that audience reach via the web is three times more than that of mobile apps. Simply put mobile web matters more than ever. With progressive web apps, it is quite possible to combine the mobile site and app experience like never before.
Your business may be able to deliver a compelling and end to end experience for users with progressive web apps. In most situations, the native app for your business may not be needed. If you need any assistance to build progressive web apps for your business or have any questions for us. Please get in touch.