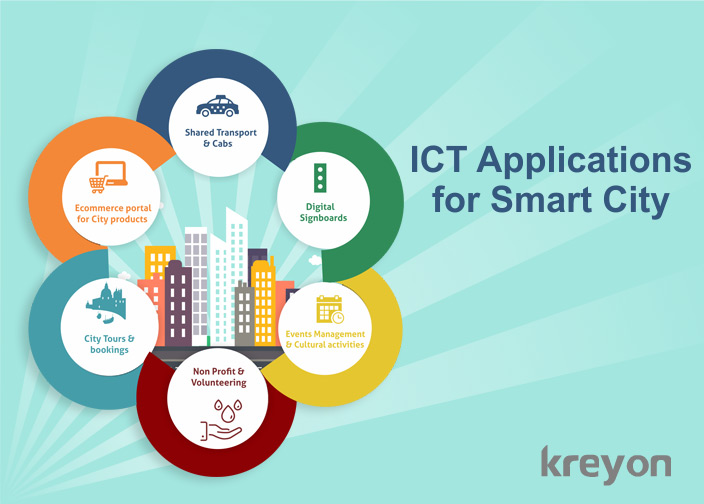 Digitisation is paving way for smart cities of the future. The smart cities facilitate and use technological developments for improving citizen services. The smart city is interconnected, adaptive, optimises infrastructure and driven by technology. The smart city also improves governance and enables better administration. The ICT applications are playing a pivotal role in delivering citizen services. Here we explore ICT applications for improved administration and governance.
1. Shared Transport & Cabs :
The government can facilitate the booking of cabs via online applications to promote sharing among citizens. These cabs or other modes of transport can be booked for travel within the city. These booking cabs can also be helpful for tourists, especially when they want to travel during odd hours for catching a flight etc. One of the major issues with cities today is increased traffic. The sharing of cabs and transport facilities can help in reducing the traffic too.
2. Managing multi site Facilities :
Managing facilities for government can be quite complex. The coordination between demand and supply of facilities like several real estate properties, buildings, infrastructure, lighting, water supply, transportation etc needs to be managed efficiently. The ICT applications can help the government to keep track of all the facilities realtime. All operations, maintenance and communication can be handled by ICT systems for managing facilities at government offices.
3. Ecommerce portal for City products :
There are many exceptional products that can do well in the international markets. The smart city can create platforms that can help vendors to sell and ship products for an international customer base. With the smart city platform, there will be added credibility to the products. The government can help local vendors and businesses to create globalised brands with the ecommerce portals.
4. City Tours & bookings :
The smart city can provide city tours and bookings for tourists and travellers. When people are booking city tours from remote cities and places, a government portal can play the role of mediator. By offering these platforms, the government can establish trust with foreigners and visitors. The review system and online booking will also improve transparency and aid tourism as a result.
5. Non Profit & Volunteering :
How government manages its NGOs and other non profit organisations has a great bearing on its citizens. The smart city can facilitate ICT systems where NGOs and other social organisations can register. They can also publish their needs as to what they are looking for. Using a centralised portal, the smart city can aggregate all these organisations. These organisations can use this portal to attract the right volunteers and funding etc for accomplishing their mission. For e.g. volunteers can help these NGOs to set-up libraries for underprivileged kids, facilitate funds and take sessions etc.
6. Events Management & Cultural activities :
Event management applications can also aggregate all important events and cultural activities for the city. The citizens can make use of the event management system for booking tickets etc. The event management and cultural activities can also provide a platform for promoting tourism. The event management application can be used for creating a vibrant ecosystem for the city. It can also help to attract and connect tourists to local events and cultural activities.
7. Digital Signboards:
Smart city applications can be used for digital signboards. These digital signboards can be used for display advertising for revenue generation. They can also be used for assisting citizens with services such as live traffic updates, important landmarks nearby, modes of transportation, weather details, tourist information center etc. These digital signboards can be placed throughout the city & can be administered centrally.
The ICT applications for smart city can provide great value proposition to everyone. It can make administration more effective and boost citizen services too. The smart city applications are also important for connecting with tourists and economic growth of cities. The smart city ICT applications are also helping cities to emerge as strong brands and showcase what they offer to the rest of the world.