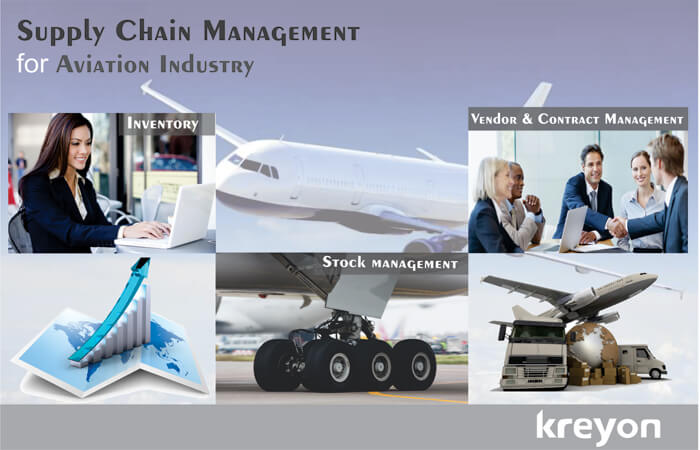 Supply Chain Automation means managing an optimised inventory. It means having the critical equipments in stock and keeping idle items minimised. The Airline Industry are increasingly focused towards reducing their reducing the maintenance costs, keeping a high level of inventory accuracy & deliver high levels of service. Supply chain automation is a great tool to achieve that.
The aviation sector handles items, which are capital-intensive. The items also involve a huge number of components. A lot of these components are moving, creating challenges to track the inventory accurately. The value of the inventory items is in rotable parts. These issues make supply chain management all the more challenging for the aviation industry.
1. Benchmarking and planning of supply chain activities for aviation. The key measures include forecasting the customer requirements, capacity management, analyse the demand patterns, addressing key bottlenecks like hangar space, logistics, engine maintenance etc.
2. Manage Material Request Cycle with complete analysis of requests, days to fulfill the order, delays in processing, warehouse statistics and priority levels etc. The complete lifecycle management can be optimised using SCM tools.
3. Inventory Analysis is used to determine the accuracy of stock, the quantity of items and its values. The aircraft industry is capital intensive with low profit margins; hence keeping an optimised inventory is very important. The value of the stock & the volumes are analysed. The historical records are kept for analysis.
4. Maintenance Operations are scheduled and recorded to keep track of costs. The planned & unplanned maintenance are recorded. The costs for components, time, labour materials etc are taken into account. The cost of ownership also involves effective loss with unplanned maintenance.
5. Vendor & Contract Management is integrated. The supply chain management is particularly complex keeping in mind the global vendor management. Dealing with orders, contracts of vendors from different countries and managing them transparently. The integration of components, materials, structures and systems need to ensure best results to achieve operational success.
6. Track Lifecycle of Aircrafts using SCM. The components and life of the aircrafts are managed with predictive alerts. Know when the component is due for maintenance or is past its useful life with predictive notifications. The items are tracked on a regular basis for proactive replacement of critical items.
7. Invoicing, Bills and stock management can be done with high accuracy. The invoices from multiple vendors in different countries are managed on a single platform. Ensure quality checks, receiving inventory items and processing of bills using an integrated interface.
8. Track & Measure things that matter. Dashboards, key performance indicators are used for planning. The consumption history, maintenance expenses, remaining life of components etc can be used for better capital & operational expenses planning.
The SCM system ensures not only optimised inventory, stock, streamlined procurement and improvised operations. But also results in improved turnaround time from vendors, better warranty and contract managements resulting in overall performance gains for aviation companies. The turnaround time for unplanned maintenance also improves significantly. The gaps between demand & supply can be closed leading to a lean inventory with automated replenishment.