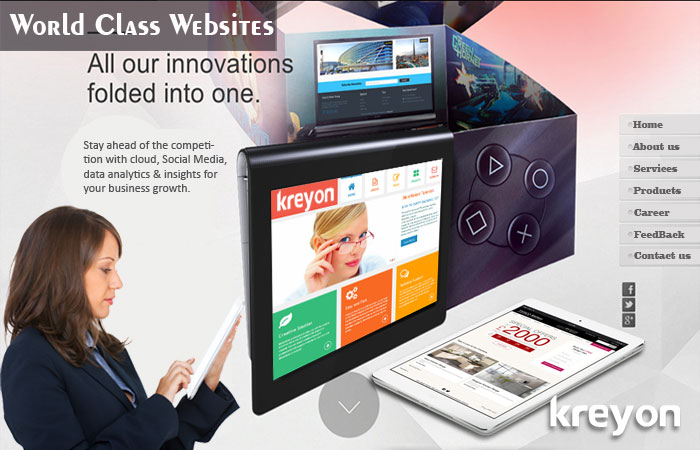 The web is a platform with over 3 billion users. It is a great avenue for brands to generate traction and showcase themselves on a global scale. Most purchases in today's world start with a search engine query about the product or service.  The website of a business plays a pivotal role in creating brand awareness on the web. A strong brand on the web can make a business stand out from the competition and open up new avenues for growth. The customers today are relying on digital channels for collecting information about brands, their websites, company details etc before making the purchase. As per McKenzie, more than 50% of customers make their purchasing decisions online; the web is increasingly influencing buyer's decisions. A great corporate website is one of the most important ways to leverage the web.
To evaluate your website, please try to the answer the following questions:
Is your existing website truly world class?
Is your website up to date with the changing trends?
Are your mobile web visitors happy with your website?
Is your Current website user friendly?
Is your business easily recognisable on Google, Bing, or Yahoo?
If you are looking to address any of the above mentioned, consider revamping your existing website or creating a dynamic, world class portal for your business. Times are changing; the young and vibrant platforms are winning the battle for user attention.
A great corporate website is paramount to winning & influencing consumers today. A look at some of the crucial elements of a winning website:
Captivating Design: The look and feel of a website goes a long way in winning the visitors. A site that looks stunning immediately captures attention of the users. Great brands like Apple, Amazon & Google have shown the power of a captivating design to win the users. These brands have dominated their industries owing to their stellar designs and top user experience. The design of your website must be used to convey its purpose, brand and help you to win the visitors. An easy Navigation, good colour combination, top logo, use of creative designs, pictures and fluid work flow are some of the basic elements of an impressive website.
Compelling Home Page: Your home page is the corporate headquarter on the web. It should be impressive and used to persuade your visitors with a strong pitch. Your home page is where most visitors enter your website. It builds trust, articulates the value and expresses your brand. On average, you have less than 10 seconds to grab the attention of the visitor.A visually appealing and informative home page goes a long way in establishing the credibility of a brand. It can be used to convey the most important aspects of your company in a lucid and attractive manner.
Company Information: When people are searching you on the web, they are looking for relevant information about your business. The information rich websites are more likely to generate web leads. So, populate as much information for your visitors as you can on your website. They help the visitors in assessing your business.  Buyers search for information to be certain about the products and services they are looking to purchase. Credible information about the company establishes trust with the visitors, which is important to make them into customers.
Products & Services: Address the customers on how your products & services will cater to their needs. Highlight important aspects of your products & services. Make it easy for the visitors to go through the details of your offerings. The visitors are also looking for information on how you will serve them after sales. Post sales support is an important parameter for converting visitors to buy your stuff. Addressing them on your website gives confidence to visitors.
Contact Information:The contact information of a business should be transparent & available to the consumers. Great brands are aggressively pursuing different channels to engage with the users. Contact information, phone numbers of representatives and emails are also important to win the trust of the visitors. The visitors expect to communicate with the company on their desired channels. Consumers are looking to connect to companies through social media, web tools like chat, audio or video calls.
Customer Centricity: Your visitors are not interested in your products & services. They are looking for solutions to their existing problems. They are looking at your website to see what is in it for them not what you offer. The best websites are developed from a customer's perspective. They reveal how the customer will benefit from using their products & services. The customer is the lynch pin around which a good website resolves. Develop the website for your customers and cater to their needs.
Integration with Social Media: An attractive and appealing website with pictures, videos, Infographics generates interest among consumers. Users also like to share interesting bits on social media. A good corporate website is developed to make sharing on social platforms easy. The website should provide the users options to share the content on sites like FB, Twitter, Instagram, LinkedIn, Youtube, Whatsapp and other platforms.
Client Testimonials & Case studies: Your website must resonate with your visitors. It should create trust, reliability and credibility in what you are selling. It should create a strong value proposition for them to go with you. Adding client testimonials and third party reviews of your products & services helps to create that trust. The top brands are adept at exploiting the customer testimonials, references and case studies to establish rapport with new prospects. These elements are crucial to generate business.
Call to Action: A simple, direct and effective call to action is a must for turning visitors into customers. Brands use trial runs, newsletter subscriptions and various other methods to woo their visitors. Call to action should be visible and must be used on all relevant pages, if not all pages.
Mobile Friendly: The web visitors are growing at an alarming pace, more than 50% of them are now coming from mobile devices. The mobile web is the new majority. The visitors expect a seamless experience from the devices of their choice now. The top brands are creating separate mobile versions of their corporate sites to ensure consistent user experience across devices. In the digital age, mobile support is a must have feature.
Effectively Sell: Everything that is needed for the visitor to make a purchase for your product/service should be provided on the website. The web is a great place for e-commerce; more and more firms are trying to increase online sales for their business. The user should find it very easy and seamless to buy things from your website. Ensure that the website is fast, secure and provides payment options for the visitors to make a purchase.
The market place is overcrowded, you need differentiators to stand out and a great website can help you do that effectively. You get instant recognition and stay on top of people's minds with a world class website. It facilitates interaction with your visitors and customers. It communicates what your brand stands for and what you've done for your customers. A great website builds trust, validates your presence, establishes rapport with the customers and helps you to sell effectively.