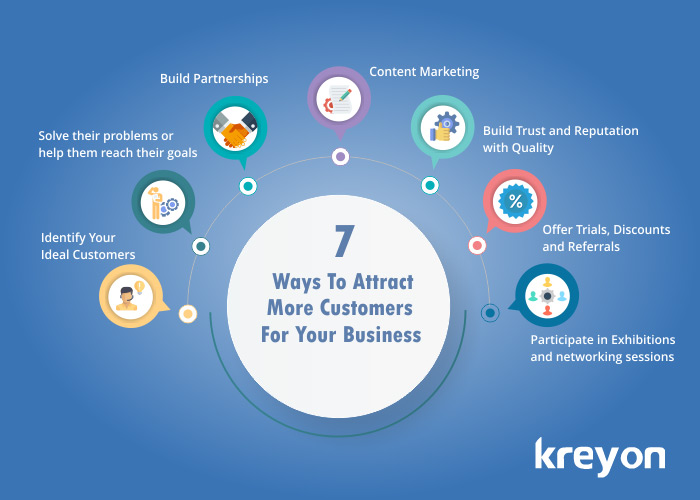 A business revolves around its customers. A deep and thorough understanding of customers is essential for a business to succeed. Winning business needs an indepth assessment of who your customers are, what motivates them and how you can help them to achieve their goals. Attracting customers is an art; it requires you to communicate and convince them. They must know your value proposition and what you can do for them. Here are 7 ways to attract more customers for your business :
1. Identify Your Ideal Customers :
It is hard to sell everything to everyone. Identifying the right customers is crucial to sales. Create the buyer persona for clients who are looking for your products or services. You might look at the following as a reference for creating the ideal customer profile for your business:
Is your customer an individual or enterprise business?
What is the size of your customer business Small, medium or large?
What is the average time for decision?
What is the deal size?
Which industry is most likely to buy your product/service?
What is the procurement model?
Are you dealing with the right decision makers?
Does your customer have the budget?
Does your customer want your product/service on priority basis?
A good understanding of your customer profile will help you create a strong message that can convince them.
2. Solve their problems or help them reach their goals :
Simply put, no one is interested in your product or service. They all want to either get rid of their problems or need assistance reaching their goals. For businesses, it is more about cutting down their costs or increasing revenues. Your product/service must align with the needs of the customer. How well you can articulate the value proposition for the client decides the fate of the product/service.
3. Build Partnerships :
Find out other businesses in your niche that offer complementary services. Building partnerships and networking is a good idea for attracting customers. The customers appreciate business coming from their own trusted sources. The partnerships can lead to synergy and increased business opportunities. For e.g. Dell & Microsoft have a technology alliance that benefits them as well as their customers with end to end IT & software solutions.
4. Content Marketing :
One of the best ways to attract customers today is content marketing. Brands across the world are creating quality content that addresses the needs and concerns of their customers. They share content in the form of articles, attractive Infographics, short videos, white papers podcasts, ebooks, blogs etc. Content marketing aims at educating the prospects about the brand's products & services. Once the prospects develop trust in a brand, they're more likely to buy. Content marketing also works on the principle of reciprocity, i.e. customers are more likely to buy when they receive something for free.
5. Build Trust and Reputation with Quality :
The best way to build trust and enhance your reputation in business is to deliver what you promise. When customers are impressed with the quality of your work, they are bound to promote you. Word of mouth and credibility are important for attracting new customers.
6. Offer Trials, Discounts and Referrals :
One of the best ways to get early customer adoption is by offering free trial of the products/services. Businesses also run promotional offers with discounts and incentivise their existing customers upon referrals. The idea is to get momentum for acquiring customers. Both online and offline events can be organised for tapping into the customers.
7. Participate in Exhibitions and networking sessions :
Participating in events and exhibitions for networking is quite useful. Businesses need to tap into events and conferences that can help them to showcase their offerings. This also offers potential for establishing contacts and collaborations. These networking sessions are insightful and allow your business to gauge the quality of its products/services.
The art of differentiating your products/services is a prerequisite to winning a good customer base. In this age of aggressive marketing, businesses need to have a solid strategy for acquiring customers. They must know what their products/services can do for the customers. Ultimately, customer acquisition is starting a partnership with the client. Once the deal is done, both parties should take care of each other's interest & growth ambitions.
Kreyon Systems offers custom business management & workflow software. Acquiring, tracking and retaining customers has never been easier. Please get in touch with us for any assistance or queries.