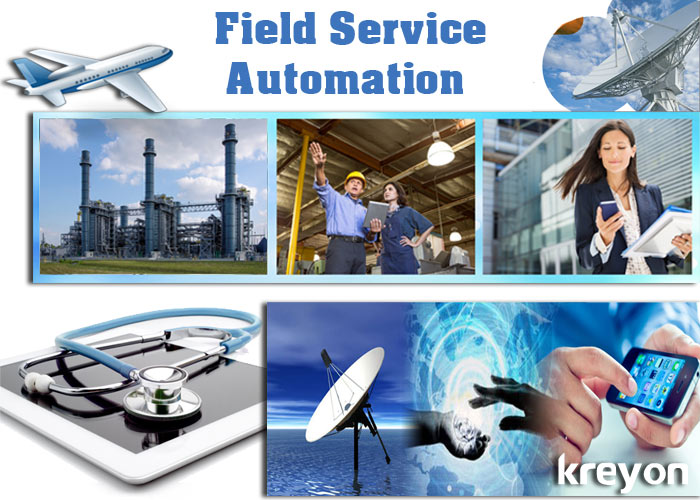 Only 13% executives are satisfied with the performance of their field service operations, as per a study conducted by IDC. 54% of them admitted suffering from poorly designed business process services. The biggest challenge for businesses is not competitors but their own inefficiencies. With the growing competition from unknown corners, the organisations are looking at different avenues to refine and improve their services. Field Service Automation is an area where companies are looking to improve co-ordination of their sales, service information with realtime communication. The field service team typically uses a mobile device, or a handheld system to capture data from the client side, the data is then sent to the centralised system realtime.
With the growth of smart mobile phones, improved internet speeds and intelligent Softwares, the field service automation is witnessing great improvements. There are numerous benefits of using field service automation like optimised customer service, reduced time delays, better monitoring of service team, and improved savings. Here is an overview of how industries are benefitting from field force automation:
1. Telecommunications
The telecom industry is facing unprecedented pressures from technological disruptions caused by VOIP companies. It is imperative for them to offer excellent services to sustain in this competitive landscape. Companies are using field service automation for providing activation of new sim cards instantly. The service team is also handheld devices for feeding information related to cables and phone lines into a centralised database.
2. Medical Vans
The healthcare industry is a great example of how field force automation can make a critical difference.  The service team or the nursing staff can make use of applications to communicate & take prescribed measures in cases of emergency.
3. Oil & Gas
Field service automation can help in improvement of the midstream operations in Oil and gas Industry. The adoption of field service technology can help in detection of leaks in pipelines, which can be used to alert responsible authorities. The communication can be improved for leak detections and monitoring of equipments.
4. Manufacturing Operations
The manufacturing operations can be improved with field service applications. The preventative maintenance, health monitoring of equipments and downtime data collections can be done through field service applications.
5. Public Utilities
The cleaning operations which are done by municipal corporations can be improved by uploading pictures of areas with GPS locations. The supervisors can track the work on a daily basis based on the data collected by the field service team through mobile devices. The realtime information related to public utilities can be tracked on the centralised system.
A look at how some of the key business areas are improved with adoption of field service automation:
Key Result Areas
Key Challenges
Benefits
Average Improvement*
Service Costs and maintenance expenses
Unplanned downtime for services, high service costs due to multiple visits at client side.
Reduced Downtime for service with field service automation, improved communication and reliability for services.
reduced 52%
Employee productivity
Multiple visits to sites for data collection and troubleshooting.  Delay in communication.
Field service automation leads to better productivity of employees, faster analysis and resolution of problems. Minimise field team visits.
increased 33%

 

Customer Service
Managing worker activity, schedules and improve customer service with minimum downtime
Handling customers on priority of tasks, dispatch & scheduling of work with a mobile work force leads to improved customer service.

increased 27%

Sales
Meeting and covering prospects, sending quotation and generating sales.  Service improvement to generate more sales.
Realtime access of information, product information and ability to configure and quote results in improvement of sales. The field service team also generated sales with quick and prompt service.
increased 29%
Billing
Getting the scheduling and work flow right, minimising time to fix problems so that payments can be collected from clients
Automated work flows and scheduling, timely despatch of team, and faster resolution of customer issues.  Reduced billing period with instant invoices

increased 18%
* Results obtained from Kreyon's enterprise FSA.
Enterprises around the world are looking for improvements in ways to please their customers and improve their services. Simple and intuitive field service applications are imperative for customer service, sales and optimised resource planning. Field service automation with customised applications for business processes leads to improved response times, automated scheduling of work and results in excellent customer service. The cost to service a request, travel time and overall expenses to support customers reduces considerably with Field Service Automation for enterprise clients.