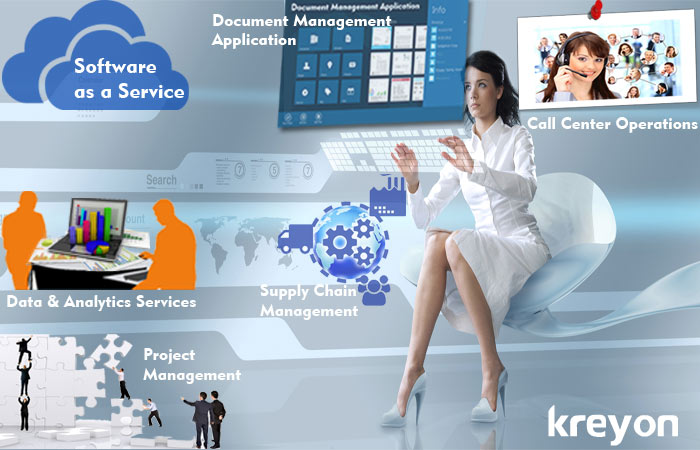 Software as a service (SaaS) has redefined the way applications are used. The way computing applications are developed and consumed has undergone a sea change. The companies offering services over cloud are growing and making enormous impact. When using gmail, ordering products from Amazon, booking a ride with Uber or using social networks like Facebook & twitter, you are invariably using SaaS. The emergence of SaaS is also seeing wide adoption among several organisations around the world. The business process as a service model is helping organisations to outsource tasks outside core competencies and make profits by reducing infrastructure, maintenance & manpower costs.
The business process as a service model is gaining prominence with cloud based applications offering best in class features. The outsourced applications are able to provide end to end services for an organisation. The services are automated, need no separate licenses, require only thin clients for accessing application and have simplistic pricing models. A brief overview of how businesses can move their services to cloud for gaining efficiency, agility & increased profits:
1. Recruitment & Human Resource Management
A lot of companies nowadays rely on third party recruitment platforms for finding talent. The whole process of recruitment from sourcing to joining can be outsourced. The compensation process, team management and employee benefits etc can be managed through specialised HR software as a service. All processes related to recruitment, training, management and incentives of an employee can be performed by leveraging the Human Resources platform.
2. Sales Process
The sales processes can be moved to cloud. The Sales process as a service can help the company to optimise its sales operations. With the advent of CRM system, many choices are available for organisations. The service that best matches the requirement of an organisation can be chosen. In some cases, clients also prefer a customised service for sales processes. The ultimate aim of using sales service on cloud is to leverage the benefits of mobility, accessibility and agility for increasing sales for an organisation.
3. Maintenance & verification of Assets
Companies are challenged when it comes to maintenance of assets. The maintenance and verification of assets can be done using third party applications. The tagging, verification and maintenance of assets can be done through outsourced applications and manpower. This way the companies can not only improve asset performance, but also reduce manpower costs.
4. Procurement & Supply Chain Management
The procurement and supply chain management of an organisation is critical to its profitability. Involving and tedious processes slows down things, it can be a barrier to operational efficiency. With Procurement & SCM as a service, things become more transparent. The process is well streamlined and configured according to business needs. The procurement as a service reduces the needs of long waits for approvals or over burdened inventories. The operating and capital costs are optimised for retaining liquidity for business operations.
5. Data & Analytics Services
Managing the data is one of the most tiresome processes for organisations. The infrastructure requirements for maintaining data, managing storage and constant updates make things all the more complicated. The enormous growth in volume of data doesn't help either. Moving the data to cloud helps companies to do away with their IT infrastructure, manage back-ups and also prepare for Disaster recovery services better. Apart from this, the server and storage can be scaled on the cloud as per the growing needs seamlessly. The data analytics can also be used for interesting insights and trigger events based on the historical data. Applications can be developed to present analytical trends for improving business results.
6. Document Management Application
Managing physical files for a big business can be very hard. When the offices are located at multiple locations and in several countries, document management becomes even harder. With document management software, the files can be stored digitally. They can be indexed for easier searching, the records can be also made available for audits instantly, and the access to documents can be controlled with privileges. The documents can be archived and backed-up on the server. The document as a service makes file management for organisations simple, efficient & more secured.
7. Archiving Records
The large organisations are severely challenged to keep their active applications performance tuned. With the growth and proliferation of data, there is unnecessary clutter, which adds to confusion. To manage the exponential growth of content, archiving data, which is not longer used, is important. Archiving tools are used to migrate data for reducing hardware footprint, improving performance and scalability of IT applications.
8. Call Center Operations
With the advent of VOIP based calling applications, the call center operations for businesses can be moved to cloud. The teams can be set-up for outbound and inbound calls and their progress can be monitored online. The calls can be analysed for better business results. A global platform for calling can be set-up and used as a service leading to cut down of calling infrastructure costs and track results realtime.
9. Project Management
The management of projects in an organisation is critical. The tasks, milestones, expenses, risk analysis, project communication etc are important areas critical to the success of an organisation. Moving them to cloud and using project management as a service helps to improve collaboration, gets realtime visibility to operational issues and mitigates risk. To handle the changing priorities, dynamic business needs and yet deliver compelling results, a tool that integrates key components is important. The project management software service can help you to track execution of tasks, deliverables, use meeting schedulers, notes and improve efficiency in day to day operations.
10. Anything as a Service
Businesses are constantly evaluating the benefits of outsourcing tasks, which allow them to focus on their core activities. The custom applications can be developed and deployed on the cloud allowing organisations to focus on results and improve business operations. The key performance indicators are established based on which business growth can be measured. This allows businesses to leverage technology for their benefits.
With business process outsourcing, the total cost of ownership, capital and operational expenses of an organisation are reduced significantly. The SaaS model allows companies to administer resources better, drastically reduce hardware costs, facilitate automatic updates to latest versions of applications, improve collaboration and transparency.
Kreyon Systems is a leading SaaS company building cloud based software products for business management. Our expertise is into building multi tenant software products that are intuitive, scalable & provide complete solutions. Please get in touch for any assistance.