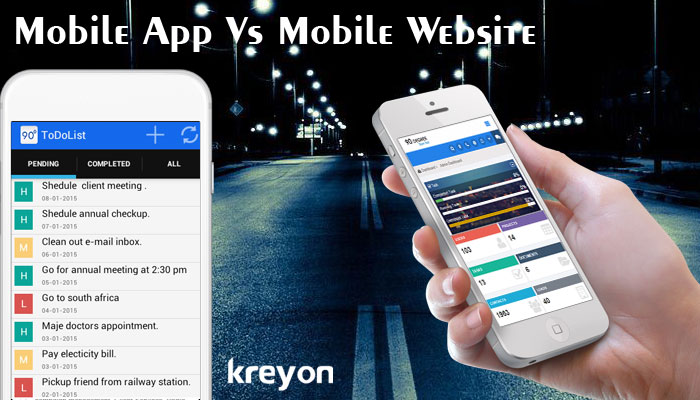 Mobile is dominating the landscape for business is not a secret anymore. Establishing a mobile presence for an enterprise is one of the key decisions today. While most companies want to leverage the benefits of a mobile work force, they are faced with many questions. One of the most frequently asked questions from enterprises is whether they should have a mobile website or mobile application? Evaluating the key differences between mobile application & mobile website are important before one can take a final call.  Here we try to uncover the use cases for both mobile website & app to see how your organisation may use them.
Difference between Mobile website & Application
A mobile application resides on the smart phone or device of the user. It is installed on the phone. The mobile website is accessed through a browser on the phone. It is not stored on the mobile device unlike the application. It fetches data over internet.
Pros of mobile Website
1.  Availability & Access :
An existing enterprise application can be made responsive so that it works fine on mobile devices. They are readily available via internet & do not require user to install them on their phones.
2.  Platform Independent :
A mobile website can be developed so that it works on all platforms identically. The same application can be accessed on different mobile operating systems and platforms. The same mobile website can be accessed from Android, iOS, Windows phone, Blackberry OS etc. PWA apps have emerged as a strong option for platform independent mobile apps.
3.  Upgrades :
A mobile website doesn't require user to explicitly upgrade an application. When the application is upgraded, the same is available to the user. The updates are seamless & easy to manage.
4.  Cost Effective :
A single website can be used across all types of devices & mobiles. A mobile application requires separate design, development & maintenance efforts. The same application needs to be written for different mobile operating systems for native apps. The generic versions of mobile apps are still limited in terms of User Interface, Performance & Operating System specific features. So, developing multiple applications for same purpose can be tricky & expensive.
5.  User Experience:
In terms of user experience a mobile website can be developed to provide User experience like a native application. The mobile user experience can be enhanced with UI & UX designs that work well across devices.
6.  Space:
Your mobile or smart phone has limited memory. The number of mobile applications that it can store is finite. However, a mobile website leaves no footprint on the device making it simple to use and manage.
7.  Search Rankings:
As per Google support, starting April 21, 2015, Google Search will be expanding its use of mobile-friendliness as a ranking signal. So, websites which are optimised for mobile usage will be ranking higher on searches from mobile devices.
8.  Enterprise Application:
If you have an enterprise application like a CRM solution, ERP software, or finance systems, there are lot of features which are present in the application. It is easier to customise your existing enterprise software application to work on a mobile than to have a mobile application for each of those features. A progressive web app development company can offer an integrated solution for a business.
Cons of Mobile Website
1. Offline Access :
Mobile website is accessed over internet, hence users cannot work on it offline. For apps, which work on standalone mode and require very little interaction to DB, it is better to use a mobile application.
2. Browser Compatibility :
Some old browsers may not support elements of a mobile website. The users can however upgrade to newer versions of the browser. The browser compatibility and versioning needs to be handled for a mobile website.
3. Gaming apps :
Gaming and interactivity apps are much better developed on an app than a mobile website. Mobile apps can offer better user experience, processing and performance for gaming apps compared to responsive websites.
Pros of a Mobile Application
1.  Graphics & Interactivity support :
For interactivity and graphics, a native mobile application can offer better performance than a mobile website. If you are looking to develop gaming applications than mobile application may be the better option.
2.  Offline Usage :
If your application is used offline and doesn't interact with the database too frequently than mobile application can be the preferred option. The mobile apps can work offline unlike mobile websites which need internet connection.
3.  Device Features :
For accessing device features like camera, GPS, and reading native libraries of the mobile operating system, a mobile application is a good choice. The device features and functionality are better accessed with mobile applications.
4.  Personalised :
A mobile application which is more personalised in nature can be effective for the end users. For standalone usage of the application, a mobile version of the same is preferred. Todo lists, ecommerce apps are a good example of this category of mobile applications.
5.  Push Notifications :
For personalised alerts & push notifications, mobile applications are more useful. The localised data from user devices is collected and patterns are analysed based on which these notifications can be sent to user devices.
Cons of Mobile Application
1.  Maintenance & Support :
The native mobile applications require separate design, development & support on different platforms. The iOS, Android, Blackberry, Windows phone and other mobile operating systems require different apps. They are developed and maintained separately, which needs different skills, teams for development.
2.  Portability of Enterprise Solutions :
It is complicated to port all features of an enterprise solution to a mobile app. These apps serve specific niche cases for users, but complete portability of a large application may need significant efforts. Several apps may be required to meet the functionality of the enterprise app, however, a mobile website offers a consistent and simple interface for achieving this.
3.  Space & Memory Constraints :
For apps which require offline processing, the space & memory constraints of the mobile devices need to be considered. The mobile storage and processing speed is often a constraint for high computing enterprise applications compared to mobile websites.
Mobile is relatively new territory for enterprise solutions. The question on whether mobile website or app addresses the user's requirements can be determined with a use case analysis. In some cases, both may also be required to facilitate the best of both the worlds. Mobile is the way things are headed for the enterprise software solutions.