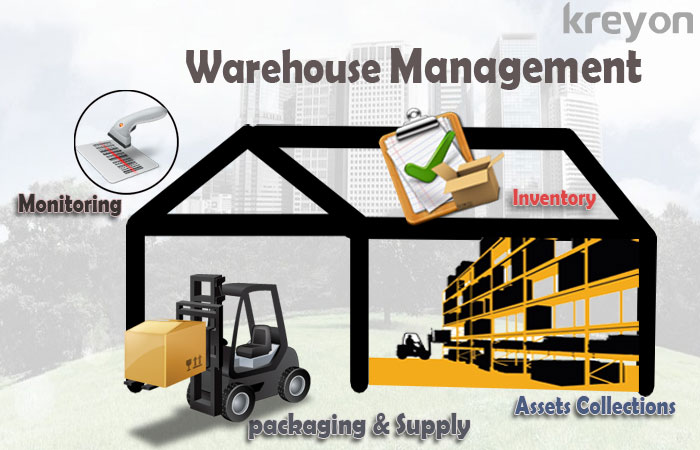 Has your organisation ever faced crisis due to inadequate availability of critical items? Or excess quantity of items which are unutilised & lead to occupancy of space, leading to damage & loss. Is your stock up-to-date to meet the varying demands in the internet driven consumer age? If you are feeling overwhelmed with day to day complexity of your inventory, then it may be time to consider a Warehouse Management System.  Here is a quick look at the best practices implemented by the top enterprises around the globe to manage their warehouses
1. Utilisation of Warehouse Space :
Storing excess items, which move slowly and occupy space for a long time results in roadblocks. The warehouse space is critical to operations & inventory management. Space management & organisation so that there is always space for incoming products is crucial. Organisation of the inventory also ensures that fastest moving items are accessible easily and slow moving items are not in excess quantity.
2. Consumption trends & Demand forecasting :
We live in times where the demand of items can be unpredictable. There are times when there is high demand of commodities & other days when it is low. It is important to know which items are likely to be consumed faster so that there is always adequate supply of the stock. Oil & Gas industries among many other benefit from consumption trends of their items, which helps them maintain optimum inventory to support business operations.
3. Use RFID/Barcode systems to tag incoming items :
Use of RFID & Barcode tags for the assets & their components can help to track them better. The incoming items are tagged appropriately with relevant information. The information on the tags can be integrated to a central system for realtime inventory status of the items. Use of scanners, smart phone devices can be done to check the location of the items precisely. The RFID tags can improve inventory accuracy & warehouse productivity for day to day operations.
4. Theft Control Systems to reduce Loss :
When items are received, proper tagging of items eliminates the chances of theft. Without a proper theft control system, the missing assets are hard to track. With tagged items, their GPS locations can be tracked online and also an anti theft system has alarms to prevent theft.  The movement of items can be tracked with realtime alerts & messages.
5. Analytics for Insights and Actions :
Analytics of pricing trends for consumable items help an organisation to plan, budget & allocate their inventory resources with greater certainty. The pricing analytics also help in figuring out any discrepancy or deviations. It helps in improving the estimation for operational expenses. The procurement cost variations, counterfeit products & other such parameters can be driven proactively with warehouse analytics.
6. Simplify Operations :
All redundant processes for warehouse can be automated. The movement of stock, receiving goods, allocation of items, payments, return of counterfeit products can be streamlined for better results. Elimination of manual work & introducing advanced tools for automation leads to increase in efficiency, higher accuracy & improved performance.
7. Paperless Working :
The RF tags help in reducing data entry efforts. With these tags the information of assets is stored automatically & doesn't need to be entered manually. This reduces time, manual efforts, eliminates paper work & increases transparency.
8. Integrated Operations :
Manage disparate processes, systems & stakeholders with international best practices to enhance your operations. Proactively communicate with all stakeholders including Vendors. Vendors receive notifications for replacement of counterfeit product, or any other discrepancy when items are received in an organisation. The other stakeholders are also interconnected to the system leading to consistency and attainment of organisational goals.
9. Mobility Support :
With mobility support, you can access the realtime information of your items on any mobile device. When the quantity of a critical item falls below the specified level, an alert message can be sent to the required authorities. The location, realtime status of all critical assets can also be accessed anytime anywhere on your device.
10. Global Edge :
With the rise of technology businesses find competition from various places in the world. There are many products in the market out there competing for quality, delivery & customer services. Keeping costs down, schedules optimised is a way to ensure that you are ahead of the competition. Streamlining processes with warehouse automation saves you time & money to gain the competitive advantage in the global market.
Warehouse Management System gives an organisation agility to make decisions on the go with data driven insights, plan and optimise its resources. It helps in visibility of real time information, location of products & considerable reduction in losses. Kreyon Systems is a leading software company for warehousing & inventory solutions equipped with latest technology. If you need any assistance, please contact us.