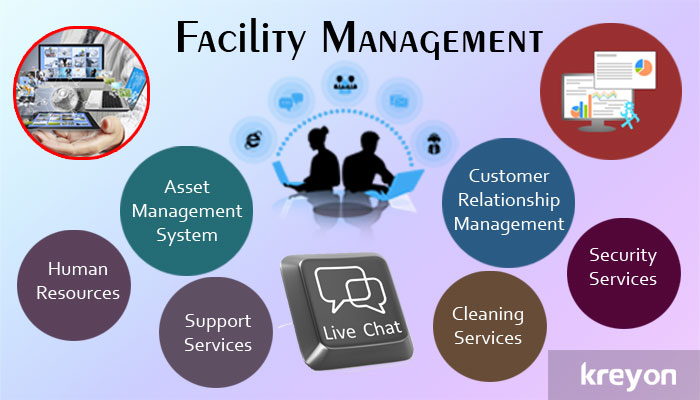 One of the fundamental pillars of a business revolves around its operations & facilities management. As per European standards EN15221-1, facilities management is "the integration of processes within an organization to maintain and develop the agreed services which support and improve the effectiveness of its primary activities." The scope of facilities management entails alignment of space, infrastructure, people and business processes of an organisation. It includes planning, design, workplace, construction, lease management, occupancy, maintenance, cleaning, catering, information technology management, HR, hospitality etc. In short, facilities management revolves around optimisation of business operations to achieve objectives of an organisation.
Continuous innovation and upgradation of the best practices for facilities management is desirable for companies. The continual push for improvement is also important for reduce costs, increase agility and add value to core business products/services. Companies are benefiting from use of automation & improvising their existing operations. The facilities management solutions equipped with mobility, state of the art technology, wireless communications are geared to improve performance, operations, risk management and reliability of a company.
The facility management solution can be deployed on cloud server or on premise as per the requirements of an organisation. The key performance indicators, budget planning and demand forecasting etc can be configured according to the needs of the business. A look at how some companies are leveraging the facilities management solution to improve their business:
Managing Enterprise Assets: Facilities management solution can be used to categorize, tag and collect data for all the assets in the company. The maintenance, verification and end to end lifecycle management of assets is done using FM solution. The vendors, contracts and SLAs are also tracked and event notification is sent to respective personnel.
Lease Renewal management: Automatic notifications and triggers for lease renewal are sent to the operations manager. Multiple offices and sites can be managed using facilities solution.
Cleaning: The facilities management solution has a daily check list of activities for cleaning office premises. Simple and intuitive mobile apps and solutions are used to upload the status of work. The facilities manager can login to track cleaning operations and alerts can be sent when cleaning is not done.
Operations management: The business operations related to premise management, cleaning, and operations can be automated. The status of activities can be tracked and scheduled with automatic reminders. Updated status of work is available to the facility manager.
Stock Replenishment: The stock management, replenishment of items and procurement activities can be co-ordinated with facilities management solution. The notification alerts are configured to ensure that critical consumable items are always in stock. The inventory is maintained as per the requirements for ongoing projects & departments. Critical alerts are set up when the items fall below a set-threshold for business continuity.
Fire, Security and Health: The fire extinguishers and prevention systems, the security systems and overall health monitoring of such items can be done through a facilities management solution. Whenever there is any discrepancy, the same is brought to the notice of the facilities manager. The sensors are configured to communicate with the administration on any suspicious or malicious activity.
Space Allocation: The space allocation for a facility is done keeping after assessing the long-term & short term needs of a company. FM planning includes space projections, space utilisation, and occupancy details. Vacant and unutilised space is marked for consolidation opportunities. The space is utilised to maximise returns, ensure proper office settings and careful analysis with graphical tools etc.
Maintenance & Contracts: FM takes care of the vendor management, catering contracts and services related to facilities. The maintenance activities for machines, equipments and assets can also scheduled & tracked using an FM solution. Business continuity and bringing down operational costs are high on priority for most companies.
People Management: The tracking of employees, their attendance through biometric, or RFID cards etc can be done from a facilities solution. The leave status and HR system etc can be integrated for managing employees.
Audit & Compliance: The regulatory requirements and compliance needs for a business can be tedious. Managing these for a global business is even more complicated. However, a good system has preconfigured checklists to ensure that compliance requirements are met for international as well as local needs.
A good Facilities Management system delivers end to end solution for managing operations of a business. It is aimed at making a company more efficient in its core business activities & takes care of all operational requirements. An integrated asset management & facilities solution drives an organisation with actionable data points to improve an organisation. A good facilities solution not only drives down operational costs, but also improves returns on assets by minimising risks, reducing capital expenses, better maintenance scheduling and meeting regulatory requirements.