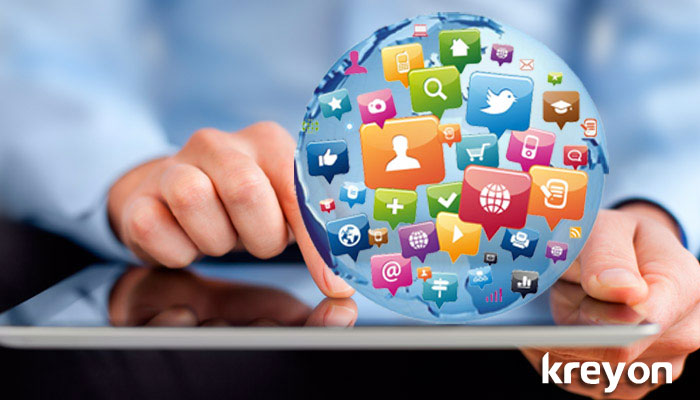 The boundaries between physical & digital are blurred. The old established businesses & companies are facing threats from unexpected quarters every day. Technology is powering businesses now. The rate at which these new companies are growing is alarming. Digital is the way forward. Marketing and the way products/services are consumed is also changing. Businesses who are making use of digital marketing are winning the market share, delighting their customers & leading the way.
61% of global internet users research products online, according to Interconnected World, Shopping & Finance. More than 86% of the consumers do a search to find out information about products/services they buy. An overwhelming percentage of the customers say that their buying decisions are influenced by online & social media reviews.
The goal of marketing is to reach people. At the end of 2014, there are more than 3 billion users on internet, as per Internet World Stats. Never in the history has there been any other medium which has connected people like internet. People are glued to internet these days. Digital marketing is a way to reach them. With digital marketing you can create an online brand & visibility to generate great business opportunities globally. A look at how some of the top brands are excelling in digital marketing:
World Class Website
Your website is the global headquarter of your business. Top brands invest in optimising their digital presence to make an impression on their consumers. The websites are designed with customers in mind. A great website helps to develop trust, loyalty & globally visibility.
Create Compelling Content
The ability to plan, strategize and execute your brand's story across the digital medium can have a ripple effect on your business. Make simple content that is easily readable. Concise articles, Infographics, tip sheets, checklists & videos etc can help you to pull visitors to your website. The successful companies maintain information pool & share information with their consumers. This helps them attract visitors & qualified traffic.
Social Media Strategy
Social media channels are great way to reach your consumers. Companies which post attractive content, thematically designed for their potential customers are able to convey their brand's message. The frequency of posts are generally kept between 1 to 5 per day. The same content can be posted from the FB, Twitter, LinkedIn, G+ accounts. The content that is attractive is shared by visitors helping generate more impressions for your brand.
Drive Relevant Traffic
Social media posts, content on the blog & all communications should be geared to bring relevant traffic for your website. The keywords to promote content are carefully chosen to captivate the consumer's interest. The top brands also monitor their competition closely. They look into the keywords their competitors use for digital campaigns and improvise accordingly.
Make Business Easy
Facilitate everything to ensure business can be generated online. If the customers can find the relevant details they're looking for on your website and order a product/service, it will show in your business results. Help your customers to do business online.
Regular & Consistent Updates
One of the easiest ways to create an online following is by posting daily content for your visitors. The regularity of posts keeps your visitors come back again. Schedule your posts on all social media channels like Twitter, LinkedIn, FB & other social media channels. Regular & fresh content updations also help to build a loyal following of visitors for your website or blog.
Customer Service
Personalised experience for customers on all digital touch points develops brand loyalty. Consumers expect companies to service them on all avenues where they are present. A huge number of consumers especially the younger generation use social media channels, messaging apps & other online media to connect with brands. The companies which are proactively serving their customers on digital medium are moving ahead.
Measure & Optimise campaigns
The top brands regularly measure traction for their digital campaigns. They ask relevant questions & benchmark their progress with concrete numbers. They ask questions to gauge the ROI for their efforts. The key result areas are discussed beforehand & campaigns are run to meet the targets. Some of the key questions that affect the digital marketing campaigns are as follows:
What social media channels do you want to promote your product/service?
What is the traction you are looking for? Say how many likes, shares, tweets, visitors etc.
What is the time frame for your campaigns?
What is the number of web leads generated from your digital campaigns?
Social monitoring tools are also used to measure the impact of the campaigns to monitor the user trends & analyse web traffic. These indicators are helpful in optimising the campaigns to give better results.
Digital media can help you convey your brand's story on why it exists & how it makes customer's life better. It can also help you get valuable insights from your customers. Often they point out areas which need improvement. You don't have to spend millions of dollar in research for that. The key outcomes of a successful digital campaign will allow you to service your customers better, have a global visibility, generate growth opportunities for your business & provide you measurable ROI.