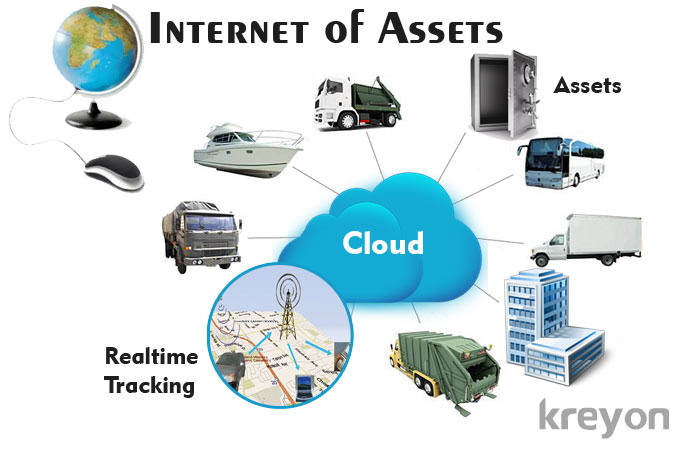 As per the ISO 55000 standards, Asset Management is co-ordinated activity to realise value from assets. In this study, we explore the benefits of internet of assets from a case study of corporates using asset management system. The Internet of Assets connects the assets of an organisation & derives meaningful representation of data to take actions for lifecycle management of assets. It involves realtime tracking, monitoring health status and using predictive analysis to improve assets performance & life.
Organisations today are challenged to keep track of their assets. The sheer complexity of managing the growing number of devices, data & maintaining compliance with International regulations is proving to be overwhelming for them. The Internet of Assets provides an interconnected ecosystem to deal with this complexity & help organisations to achieve their business objectives. The key enablers for Internet of Assets are growing number of assets, sensors, wireless technology, huge volumes of data generated by machines & an interconnected system to manage this complexity. It helps the organisations to maintain up to date asset register, tag & track the assets, locate assets with real time information.
The devices are labelled with RF tags. The data from the devices is collected via signals, which is used for analytics. The information from the device is used to generate the actionable triggers for proactive monitoring of asset health, remote diagnosis and predicting failure scenarios. The patterns of asset usage are analysed for predicting failures based on wear and tear of assets. The downtime of critical assets is reduced significantly leading to business continuity and optimised operations.
The asset performance and value is improved significantly with data based insights. The data is used to predict performance, assess reasons for failure, optimise maintenance schedule based on actual usage logs, and also generate work orders for repair of an asset. The asset alerts are triggered on key events and downtime analysis is done to find out the root cause of failures. The critical processes of a business unit can be improvised with operational intelligence and centralised management system. The internet of assets is providing key benefits to businesses with improved supply chain, reduced downtime and optimised inventory.
Internet of Assets: Transformational results across Industries.
| | | | |
| --- | --- | --- | --- |
| Key Result Areas | Key Challenges | Benefits | Average Improvement |
| Downtime for assets | Unplanned downtime of critical assets | Reduced Downtime for assets with predictive monitoring, higher availability & reliability. | reduced 55% |
| Procurement | Capital costs optimizations, delays in procurement & unused inventory. | Intelligent procurement to address demand fluctuations. Lower costs for procurement, improved supply chain. | reduced 28% |
| Maintenance Expenses | Scheduling of preventive maintenance | Proactive and preventive maintenance of critical assets, improved processes & efficient operations | reduced 35% |
| Inventory | Realtime data  for availability of assets | GPS mapping of assets with realtime locations. Accurate & Upto date inventory | improved  27% |
| Missing Assets | Unauthorized movement of assets | Unauthorized asset movement is reduced significantly with tags and integrated GPS systems | reduced 34% |
| Insurance Renewal | Insurance renewal process is tedious and costs | Insurance mapping data to show the expenses incurred for the assets, the insurance claim processing and overall spending on insurance. | reduced 12% |
| Employee Productivity | Employees time is wasted on trivial tasks, asset verifications, &  tedious processes | Productivity is improved with process automations like sensors for collection of data & paperless working | improved 15% |
| Asset life & performance | Assets are not able to last their economic useful life. | Improved asset life, performance & risk control. Integration across geographies. | improved 9% |
| Asset Utilisation | Assets are not tracked & lying unused | Improvement in asset utilisation and lifecycle management. | Improved 25% |
| Fleet Management Location & Costs | Realtime location of motor vehicles, traffic, tracking & diagnostics | Locate fleet realtime on the map, reduce operating costs & fuel usage. | reduced 38% |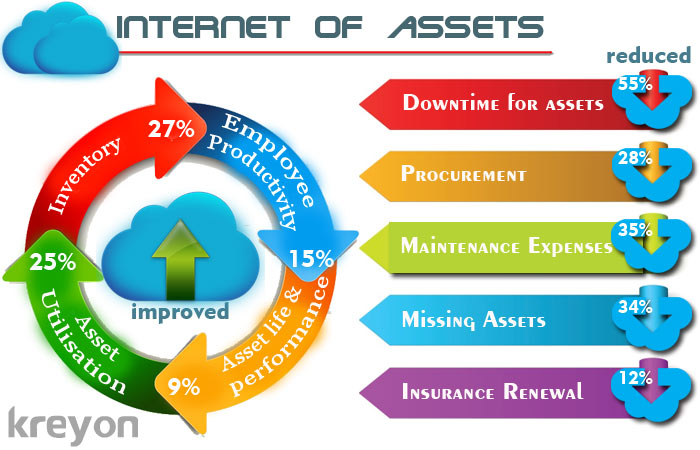 Assets & devices are growing at a prolific pace. Estimates from Gartner predict that there will be 25 billion devices connected things by 2020. Organisations are already starting to benefit from the value of a connected ecosystem for managing their assets over internet.  The analytical tools and algorithms are used for optimise maintenance, supply, reduce risk and improve compliance. With Internet of Assets organisations are able to save costs by improving asset utilization, reducing downtime, theft, & enhanced process efficiency for asset lifecycle management.