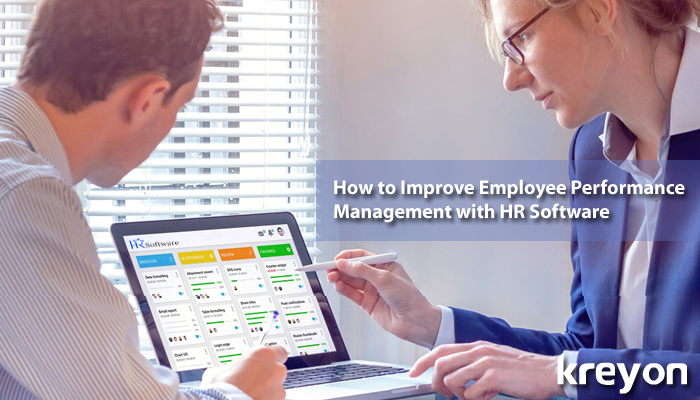 Employee performance management is a great competitive advantage, if it works for your business. Great companies and organisations are built on the prowess of its employees and staff performance. What employees do every day to shape the company goes a long way in making it successful or irrelevant.
Employee performance management requires bringing out the best in your team so that everyone can achieve more. HR software can help your organisation keep track of performance management for your team. Here's a look at how you can improve employee performance with an HR management system:
1. Setting the Performance Expectations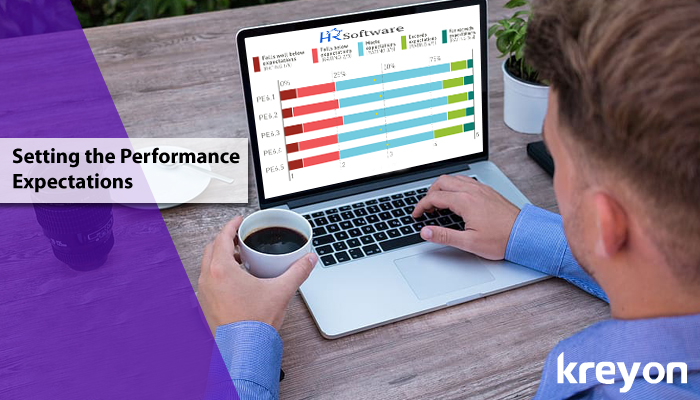 With an employee management system, every employee and team member can have access to their shared goals, key deliverables, project details and expected standards from them. 
Management can use the self service HR systems for enforcing quality checks, setting expectations and ensuring consistency of performance across the organisation. When the employees are clear about the expectations from them, managers can make them accountable for their deliverables.
Top companies make their expectations for employee performance with clear objectives. Some of them could be: 

a) First time quality of work: Review your own work carefully to produce top quality work in the first go. Avoid meaningless and cyclic iterations that waste time.
b) Reliability: Are you someone who is reliable? No person with a dicey track record can be entrusted with key responsibilities. 
c) Adaptability & Flexibility: To succeed in today's organisation, you need to be able to adapt and be ready to take on challenges.
d) Understanding & Conceptualisation: Your ability to grasp new concepts, ideas and execute them is paramount to deliver the goods.  
e) Self driven: If you are self driven and a go getter, you can achieve great results.
f) Response to Criticism & Inputs: Taking criticism and inputs is one of the most essential traits of a professional. Your growth depends on your ability to learn fast, take inputs & improve.
g) Attention to details: Your expertise lies in your ability to learn & pay attention to the details. Achieve mastery & depth in what you do.
h) Deadlines & timeliness: The work you do matters the most when you do it on time.
i) Output  & Productivity: Your growth depends on the output, efficiency & quality of the  work you do on a daily basis. It adds up overtime.

j) Creativity: Take time to think about the best way to accomplish your task. When you delight people with creativity, you find ladders for your own growth. 
k) Proactive: Take initiatives, try out new things and develop skills to work without direction.

l) Innovation: Find ways to build and develop new ideas. Innovation requires experimentation, efforts and ability to correlate things. 
m) Responsibility: Take full responsibility for whatever you do, nothing less works at all.
n) Conflict Resolution: Learn to communicate, handle pressure and resolve any conflicts to advance your career.
o) Problem Solving: You are expected to solve problems, not offer excuses. Find ways to get things done & let your performance do the talking.
2. Measure the Performance
Evaluating performance requires measuring tasks every day. A dynamic HR software allows organisations to keep track of key tasks, documentation and help teams achieve better performance. Some of the things that can be used to measure performance of employees with an HR system is as follows: 
a) Timesheets: Timesheets can be used for hourly tracking of employees tasks. The tasks performed can be evaluated by the managers on a regular basis to track efficiency of work.
b) Project Performance: Projects can be broken down into tasks. These tasks can be managed using timesheets and allotted to employees. The project performance, client communication and deliverables can be managed using the HR software. 
c) Individual Performance: The daily efficiency and output of employees can be tracked using an automated system. Each employee can track their progress and co-ordinate with their supervisors and teams for their work.
d) Teamwork: How teams collaborate and help each other are important for a company's success. Using an HR system that allows collaboration effectively, provides visibility and transparency can make a world of difference.
e) Discipline: Today with the SaaS based tools and work from home culture, employee discipline is crucial. How an employee meets the deadlines for tasks, manages time and absenteeism can be enforced using online systems.
3. Compare Performance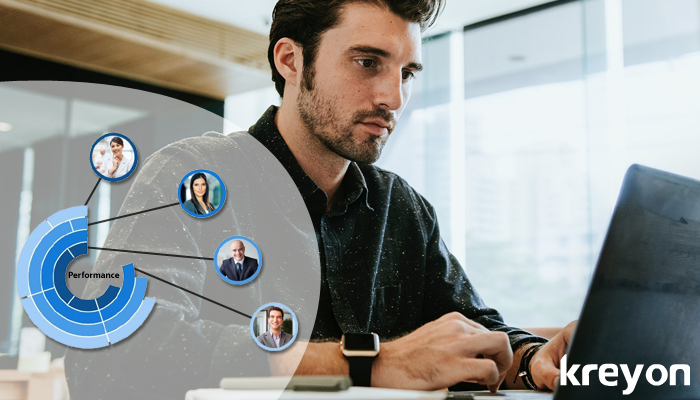 There are some teams that optimise their day to day work, produce great output and quality. But the same needs to be replicated across teams and the organisation. An online system for managing teams and their tasks can be used for implementing best practices across the company. 
Every employee should be able to judge where he stands. The system can be used to track the top performance according to the key performance indicators. The online HR software can measure teams performance and individuals performance. For e.g. for sales teams, average time to send a client proposal, average time to close a deal, average revenue generated per month per employee etc. can be compared.
For development teams, number of user stories added for a given time period, number of features designed, bugs per feature or module etc can be tracked. Every employee also gets access to these key indicators & evaluates their performance.
4. Align Individual Goals to Company Objectives
Organisations need to help employees grow and develop in their careers. When employee goals are inline with the organisation's goals, this could be a win win situation. The company can make use of effective tools to unleash employees aspirations and skills to fit the best projects.
The employee needs to be able to see how their performance is directly related to company success. Quality of work has a direct impact on the projects, revenue and overall company performance. When the company succeeds, the employees get rewarded with growth at the same time.
5. Performance Based Compensation & Rewards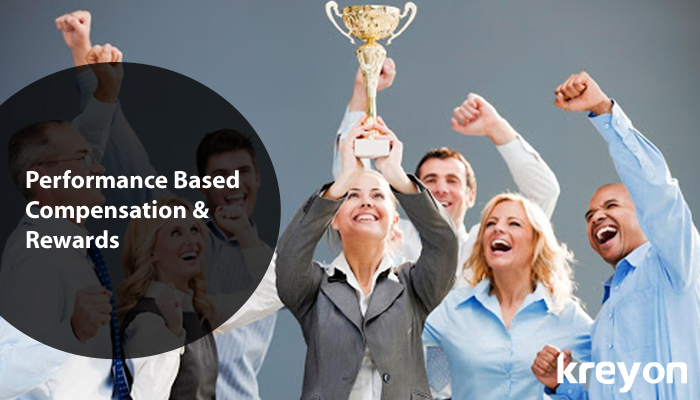 An online system that is used for performance based compensation and rewards ensures consistency. When performance indicators are well defined, the HR system can introduce fairness and transparent appraisals for employees.
The system creates an automated list of top performers in various functional roles. Whether it is marketing, sales, development or any other department, the top performers are rewarded and compensated according to their performance. The management gets insightful reports of employee performance across departments and locations.
6. Communication Standards
An HR tool gives teams access to the information they need. The teams, clients and project managers can use the system to communicate effectively. The right communication helps teams achieve greater performance. In addition to the project and company objectives, individual areas for improvement can also be singled out.
The past feedback, employee profile, skills and appraisals can be used for recommending improvement areas. Managers can work with employees to help them build skills for them to excel. The online system provides an organised approach to employee development and skill building, thereby helping them improve their performance.
7. Daily Appraisal of Work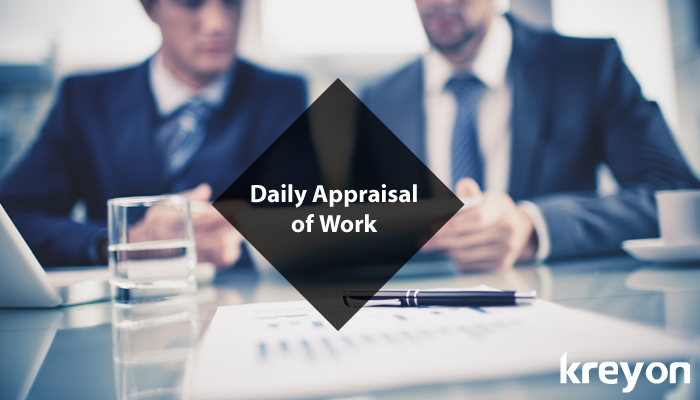 An HR based system allows organisations to improve the efficiency and output of their employees. The software based system can be used for daily appraisal of employee's work, provide them with timely feedback to help them improve the quality of deliverables consistently. 
Organisations can use this daily tracking system for evaluating progress on a day to day basis. The employees can review their work at the end of the day and learn more about areas to maximise their performance.
8. Knowledge Base, Processes & Training
An online HR software can facilitate skill development, training and improve overall competency levels of employees. The knowledge base serves as a repository for learning, information and record keeping. The processes are streamlined with consistency, automation and data driven intelligence for unleashing the best talent.
The employee onboarding, performance appraisals and overall learning is facilitated using AI driven employee management software. A digital record of employee milestones, educational background, skillset, learnings, top achievements, project performance, goals met, and client recommendations etc. are used for grooming the talent pool.
Kreyon Systems is adept at automation of business functions in human resource management software. For any assistance or implementation queries for business software, please get in touch with us.